Despite its remote location, the impacts of COVID-19 are felt on the small island of Papa Westray in Orkney, just as they are elsewhere. Despite the island's remote location, the same rules relating to lockdown and social distancing apply, and 80+ island residents take these measures seriously. Although we are all used to leading pretty independent lives, we do miss the opportunities to get together socially and the various community events.
One of the social hubs of the island is the community shop, run by the Papay Community Co-operative (or Papay Co-op), which has provided a lifeline service for 40 years. It's the place where folk meet and connect and catch up.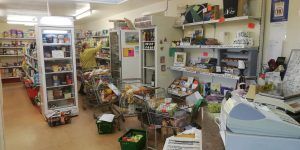 However, it's impossible to maintain social distancing in a small island shop, so the Papay Co-op decided to close its doors in March and to operate an ordering system instead. Deliveries for the shop come on the twice-weekly ferry, so it is business as usual at the pier for the staff and volunteers who transfer all the goods to a van and take them up to the shop. After sorting everything out, the shelves, fridges and freezers are filled as normal, but instead of welcoming customers in, we send out a list of all the fresh produce … then wait for the orders to roll in.
Some islanders phone their orders in or others send emails or a note, especially after the fresh deliveries. With extra support from some young helpers, the staff then sort out everyone's shopping themselves, with a line of trollies running up to the till. As for paying – folk pay at the back window, so no customers need to enter the shop. Most islanders collect their shopping when it's ready, but staff deliver to some who have difficulty in leaving home.
The Papay Co-op, a SURF Award winner in the community led regeneration category in 2018, also runs the island's only hostel – a thriving and popular summer venue for visitors from all over the world, as well as the weekly pub, but these have shut for now. We were planning our 40th year celebrations this year in July since opening in 1980 after conversion from disused farmworkers cottages. However, like so many events across the globe, this is just one more to put on hold. Meanwhile, we'll keep piling up the trollies …
(Update provided by Papay Community Co-op)