A dedicated team of over 40 have been co-ordinating requests for help following the launch of Falkirk Council's Support for People team.
The service is designed to help those who have no other access to obtain food, medicines/prescriptions and other essentials because of health conditions or self-isolation, supporting third sector groups across Falkirk's local communities.
Support officers, such as Adele and Amanda (pictured), pick up each enquiry and make a referral into the most appropriate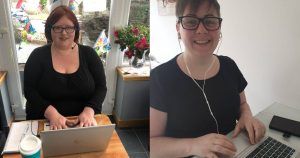 third sector group to provide support. So far the service has been supported by 14 different organisations.
The majority of requests have been for food and medicine, but other requests for support with baby supplies and utilities have also been received.
The service was up and running in around 48 hours and that included getting equipment to employees working at home such as laptops and headsets etc as well as setting up a dedicated phone line.
Contact our Support for People team
You can call the Support for People team on 0808 100 3161 or visit falkirk.gov.uk/supportforpeople. The service is taking calls seven days a week between 9am and 6:30pm.
Councillor Cecil Meiklejohn, Leader of Falkirk Council said: "The voluntary sector across Falkirk deserve huge praise for their work in delivering this service.
"While we can co-ordinate requests, it is their volunteers who are out on the streets supporting vulnerable people who are unable to do anything about their situation."
Jen Kerr, Chief Executive of CVS Falkirk said: "Local third sector services and volunteer community organisers came together quickly to create safe and effective community responses to COVID-19.
"Thank you to everyone who has stepped forward and for your continuing efforts and energy.
"The commitment and compassion shown by Falkirk's residents to help each another is heart-warming. We expect to see the numbers rise considerably as people become aware of the service."
Volunteer in Falkirk's communities
If you'd like to volunteer to help in any local initiative, Volunteer Falkirk is matching residents with local COVID-19 initiatives.
The phone number is: 0300 311 9700, open 9am – 5pm.
(Update provided by Falkirk Council)