The Ethnic Minority National Resilience Network (EMNRN) was set up on Friday the 20th of March 2020 and is being coordinated by BEMIS Scotland. The network has 75 organisation members across Scotland.
Full network details and access to funding, counselling and other support available here: https://bemis.org.uk/emnrn/
The network is a collaboration of organisations who all fall within the scope of Article 1 International Convention on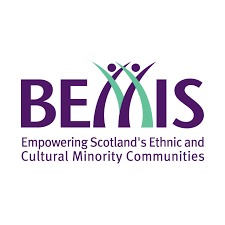 the Elimination of all forms of Racial Discrimination protections on the basis of colour, nationality, ethnic or national origin thus no exclusions are permitted on the basis of a racial characteristic or on the basis of communities immigration status.
The network includes long standing ethnic minority communities (Pakistani, Jewish, Irish, Indian, Polish and others) what are termed newer 'migrants' (Polish, Romanian, Roma, African [various] and others) and what are termed as asylum seekers, refugees and some organisations who support undocumented migrants. Our evidence indicates that all of these communities are facing challenges as a result of the social and medical impact of this public health crisis.
The network goals can be outlined as:
Intelligence and Signposting: Ensure ethnic minority (EM) communities are engaged with local support networks and services.
Responding and Providing: Provide EM communities with emergency food funds for vulnerable families if and when required.
Inclusive and Receptive Approach: Develop and all-encompassing approach to ensuring EM individuals, families and local communities are resilient and supported equally.
Intelligence developed from 16/03/20 to date has identified the key challenges to Scotland's diverse, multi-generation ethnic minority communities as result of both the clinical and social impact of the public health emergency to be:
lack of access to food
lack of access to finance
significant risk of sustained, cyclical internal and external community transmission (Viral Overload)
Mental Health support increased
Domestic abuse challenges increase (verbal, coercive and physical)
Increased chance of prejudice directed towards Far East Asian communities and those identified via social primarily as not following social distancing measure (ROMA)
Poverty and overcrowding (EM danger of viral overload)
Employment across NHS (High % of EM employees)
No recourse to public funds places some EM communities in significantly vulnerable position of destitution as employment has collapsed in some key sectors
Informal front-line, food deliveries, taxis, supermarkets, "low skilled"(High % of EM)
Individuals classified as "undocumented migrants" at severe risk of destitution, virus exposure, virus transmission and hostile racial prejudice
Digital connectivity inequality placing EM communities at significant risk of isolation and access to information
for further information or to join please contact communitysupport@bemis.org.uk 
(Update provided by BEMIS)