The planning system affects us all – it shapes our local services, job opportunities, transport infrastructure and more. Through balancing competing demands for development, it aims to create places which improve the quality of life for communities.
While it does have the public interest at its heart, Scotland's planning system is not perfect. Around ten years ago, the Planning etc. (Scotland) Act marked the most comprehensive reform of our planning system in sixty years. It aimed to modernise the planning system by making it more efficient and inclusive, with a focus on sustainable development.
A decade on, the effectiveness of this modernised system has been placed under scrutiny through a substantial independent review, published in May this year. This article takes an opportunity to compare the findings and recommendations of the Review with the Government's response for action, issued in July.
How was the Review undertaken?
An independent panel, appointed by Scottish Ministers, considered a whole host of 'game changing ideas' to improve planning. To inform these ideas, the panel widely advertised for any person or organisation with an interest in the planning system to submit evidence in writing, through verbal discussions and via an online discussion forum over the course of several months. This brought together several hundred ideas and recommendations for consideration.
The final report from the panel, 'Empowering Planning Deliver Great Places', highlights key problems and provides 48 recommendations, with particular emphasis on strengthening and simplifying the planning system, while enabling all parties to contribute positive changes to development.
Six Key Areas for Review
1. Strong and flexible development plans
The Review considers issues in preparing development plans for Local Authorities and developers, community consultation during this process and the potential for collaboration with community initiatives.
a. Local Development Plan (LDP)1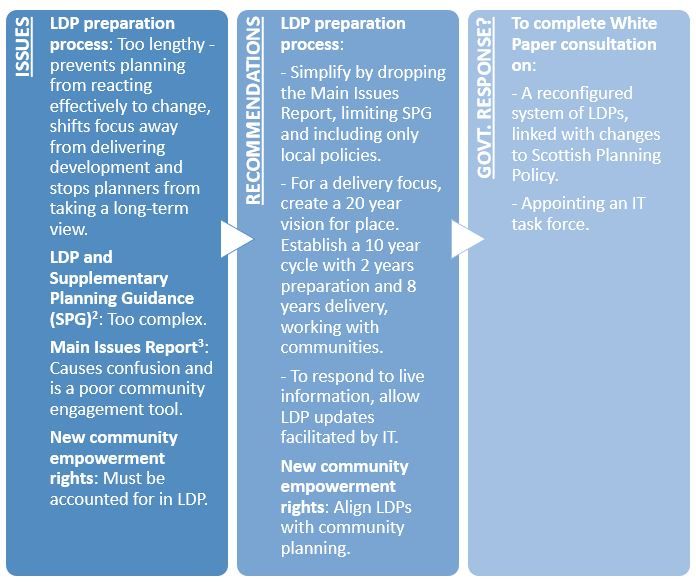 b. Strategic Development Plans (SDPs)4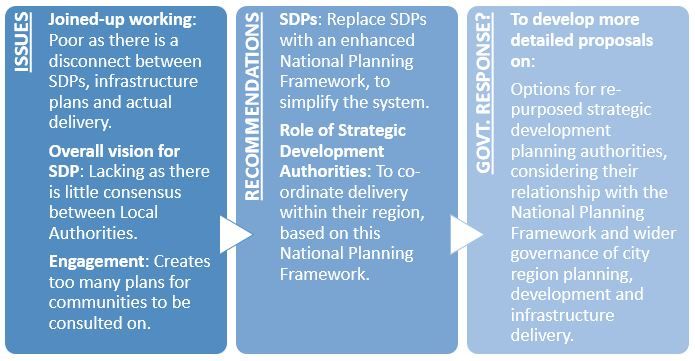 c. Development Plan Examinations5

2. The delivery of more high quality homes
The Review looks at how housing targets and land allocations are decided, the need for housing to meet community needs and identifying innovative ways of delivering housing.
a. Housing Targets & Land Allocations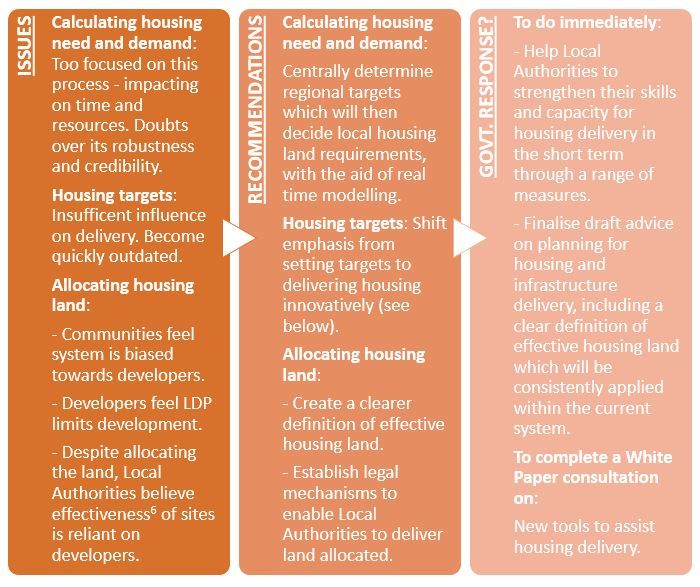 b. Delivering for the needs of communities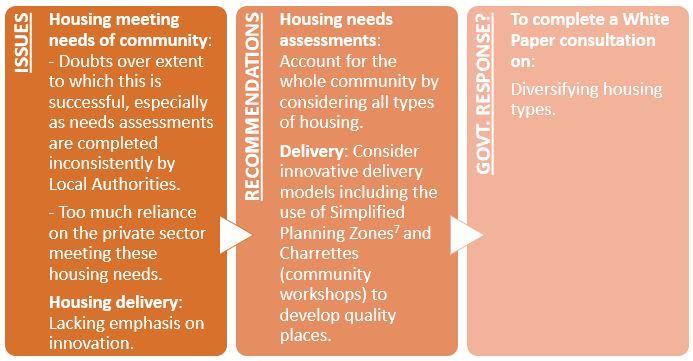 3. An infrastructure first approach to planning and development
The Review highlights the disconnect between the planning and delivery of infrastructure, the issue of upfront public investment and the dependency on private sector contributions for community infrastructure, including schools.
a. Disconnect between the planning and delivery of infrastructure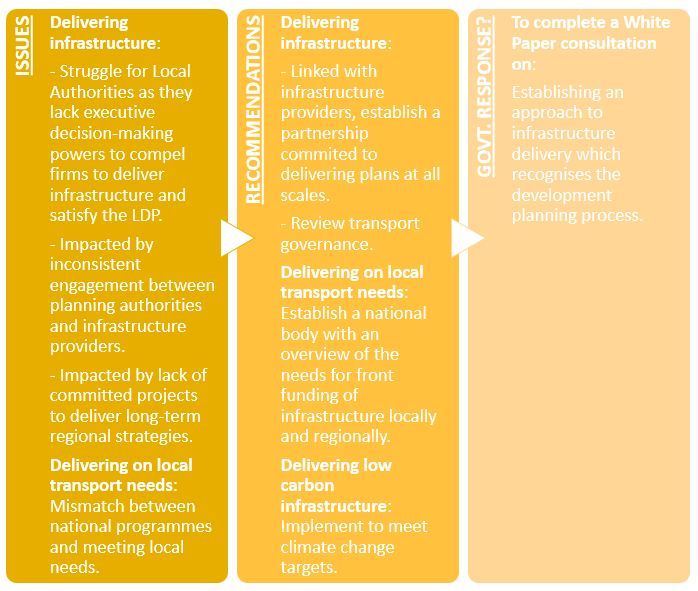 b. Upfront investment in infrastructure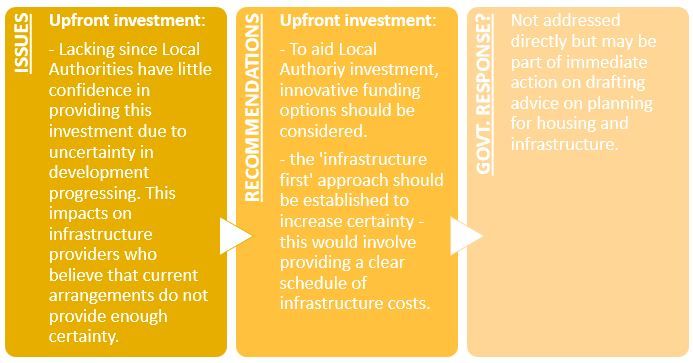 c. Private sector contributions for infrastructure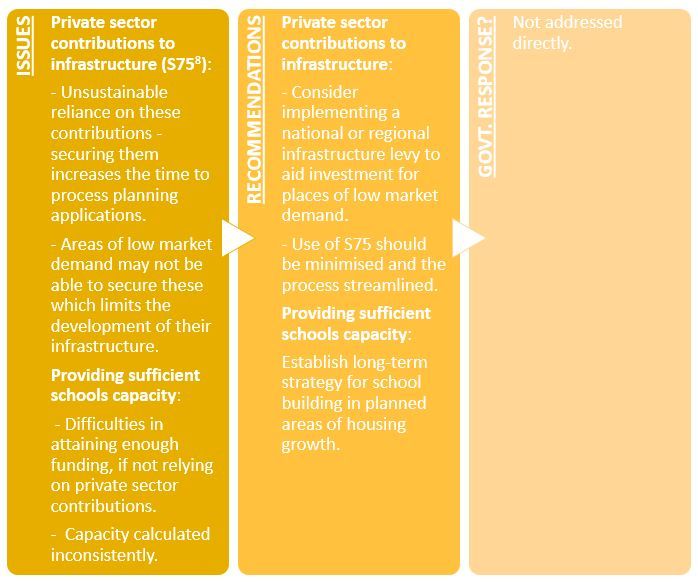 4. Efficient and transparent development management
The Review considers the approaches, consistency and timescales with which planning applications are processed. It also looks at dealing with representations against to planning proposals locally and the monitoring of developments after their approval.
a. Stages of processing planning applications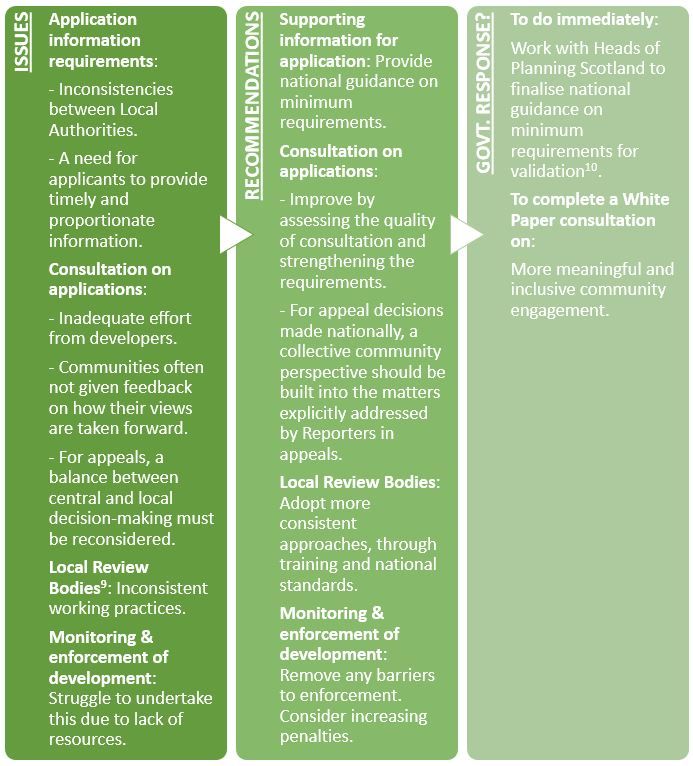 b. Overall approaches to processing planning applications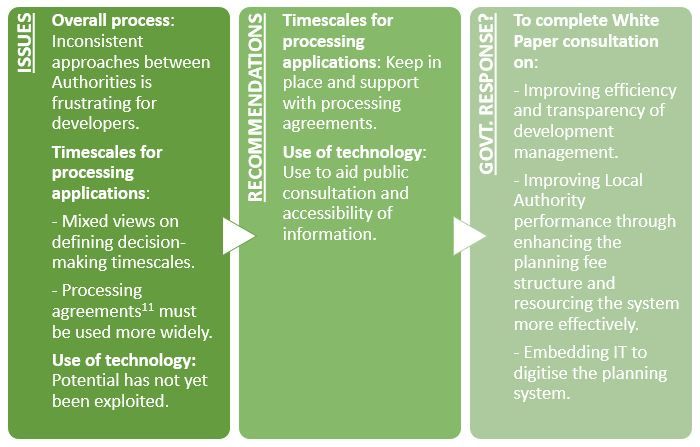 c. Process applications for certain types of development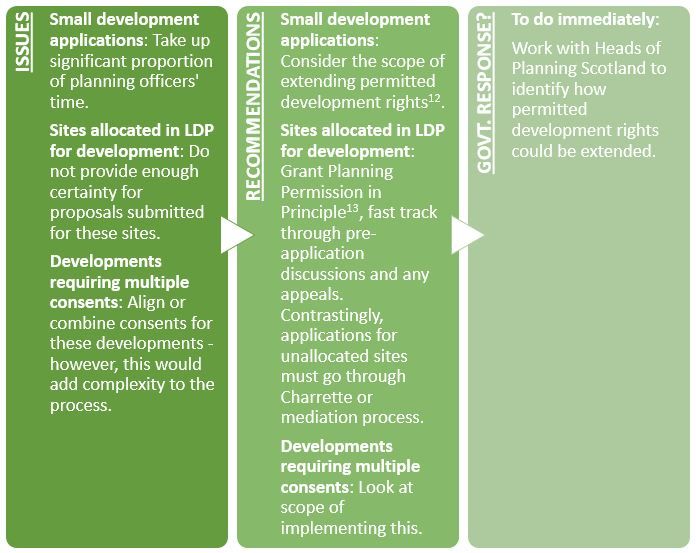 5. Stronger leadership, smarter resourcing and sharing of skills
The Review looks at the position of planning departments within Local Authorities structures. It also highlights the significant under-funding of the planning system, planning application fees and the need for skills development among planning professionals.
a. Leadership in planning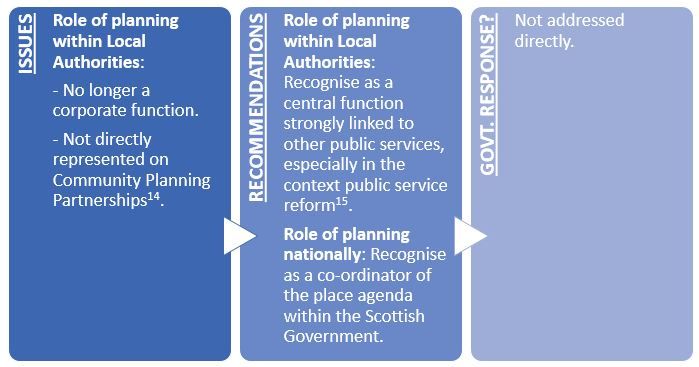 b. Resourcing the planning system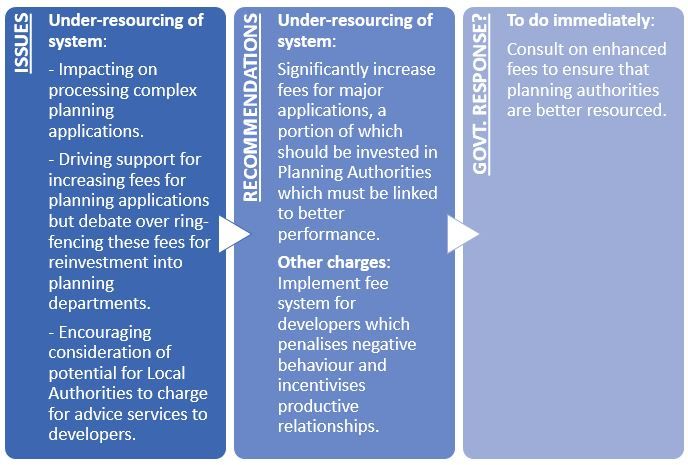 c. Skills within the planning profession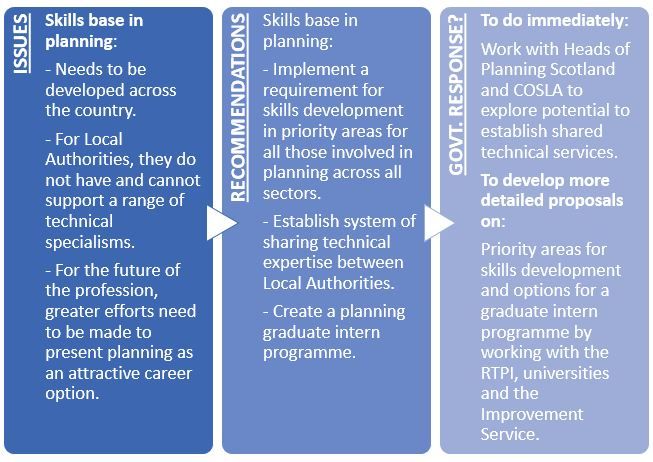 6. Collaboration rather than conflict – inclusion and empowerment
The Review considers means for greater, more inclusive and higher quality community involvement for development plans and development proposals. It also considers third party rights of appeal.
a. Community Involvement in Planning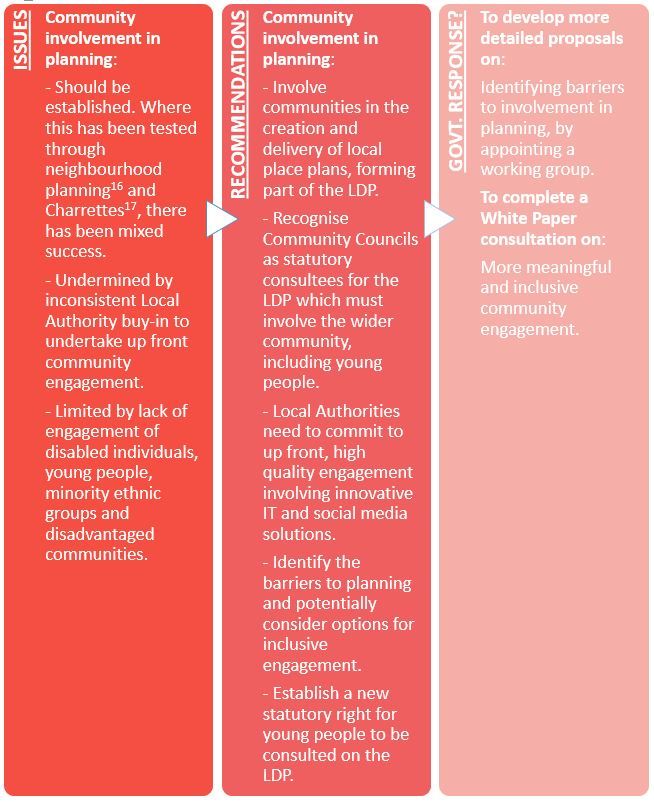 b. Third Party Rights of Appeal18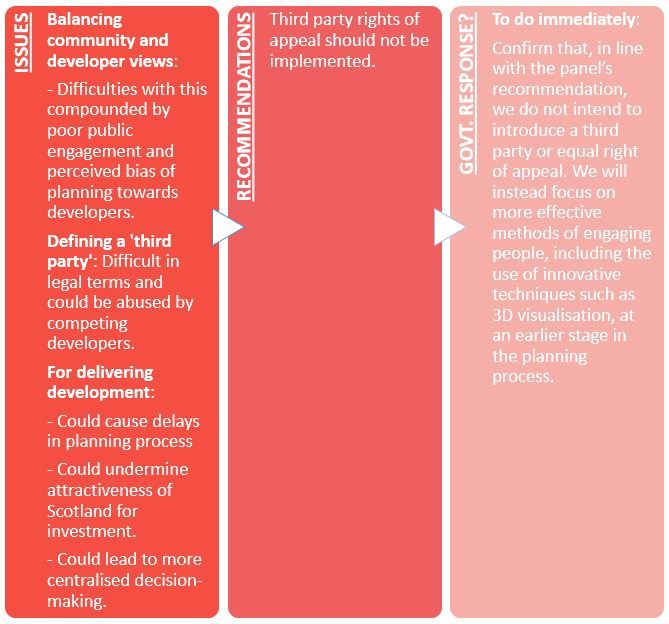 ---
1 Local Development Plan (LDP): This is produced by the Planning Department of a Local Authority – it sets out policies on how places should develop throughout the area.
2 Supplementary Planning Guidance (SPG): Local Authorities can also produce guidance to accompany the Local Development Plan on specific topics identified in the plan. This might include development briefs or master plans which detail how a particular site should develop, strategies on specific issues and detailed policies such as the design of a new development.
3 Main Issues Report: This Report is produced at the first stage of preparing a new Local Development Plan and sets out the Council's ideas of how the area could develop, based on talking to local businesses and communities.
4 Strategic Development Plans (SDPs): This document sets out the long-term development of the city region and deals with region-wide issues such as housing and transport infrastructure. The plan is produced by a Strategic Development Authority. The Strategic Development Areas include:
Aberdeen City and Shire (Aberdeen City, Aberdeenshire)
ClydePlan (East Dunbartonshire, East Renfrewshire, Inverclyde, North Lanarkshire, Renfrewshire, South Lanarkshire, West Dunbartonshire)
SESPlan (Edinburgh, East Lothian, Midlothian, Fife, Scottish Borders and West Lothian)
TAYPlan (Dundee, Angus, Perth, North Fife)
5 Development Plan Examinations: As part of the LDP preparation process, the proposed plan may be challenged by different parties. If these challenges are unresolved, the plan must be submitted for examination by a 'reporter', appointed by Scottish Ministers. This examination may demand the submission of further information on certain issues, a hearing to explore the issue further and in exceptional cases, may result in an inquiry where evidence is cross-examined. The reporter will finally send a report of the examination to the Planning Authority with their conclusions and recommendations on each issue raised which must, in most cases, be reflected in modifications to the LDP.
6 Effective Land Supply: The part of the established land supply which is free or expected to be free of development constraints in the period under consideration, and therefore be available for development.
7 Simplified Planning Zones: This is an area where the need to apply for planning permission for certain types of development is removed so long as the development complies with the details and guidance set out in the Scheme. The SPZ Scheme deals with the planning issues 'up front' and confirms what type of development, and how much, is allowed.
8 Private sector contributions to infrastructure (S75) [also known as planning obligations]: Where community infrastructure is provided by a developer, alongside new development – the capital for this infrastructure is made available to the developer by the uplift of land value in granting planning permission.
9 Local Review Bodies: Where someone who has made an application for planning permission wants to challenge the terms of the planning authority's decision (or where no decision has been made within the set timescale), they have a right to either:
Appeal to Scottish Ministers or;
Request a review by the planning authority's local review body which is composed of elected local members (Councillors).
10 Validation: On submission of a planning application, the Local Authority will first check that it meets the statutory requirements on form and content.
11 Processing agreement: This is a management tool for a planning application. It can be used to set out the key processes involved in determining an application, identify what information is required, and from whom, and set the timescales for the delivery of various stages of the process.
12 Permitted Development Rights: Those types of development which can be carried out without the need to gain planning permission. These are often for small householder developments.
13 Planning Permission in Principle (PPP): For the developer, the purpose of applying for PPP is to establish the acceptability of a proposal in principle without having to develop the detailed proposals through, for example, plans and drawings.
14 Community Planning Partnerships (CPPs): These are statutory organisations set up by Local Authorities to plan and coordinate public service provision through cooperation between partners. These partners include the Local Authority itself, the Scottish Government and public service providers.
15 Public service reform: This is an ongoing Scottish Government programme to create public services which are affordable, address inequalities and support economic growth across the country, by focusing spending on the prevention of social issues.
16 Neighbourhood Planning: This is a system in place in England where communities are involved in certain aspects of decision-making on where they live and work.
17 Charrettes: In the context of planning, a charrette is an intensive community workshop where community members, designers and others collaborate on a vision for the development of their place.
18 Third Party Rights of Appeal: This refers to the rights of appeal on a particular planning decision for parties other than the Local Authority and developer.