A couple of years ago I was involved in hosting an event exploring the power of community and how the Community Empowerment Act 2015 could facilitate positive change. There were many learning points from the day but it was clear that community empowerment had been alive and kicking long before 2015. The Act was the recognition that the community contribution to societal change is vital and proposed to provide mechanisms to make the process easier. Communities taking control of making their place a better place to live and work is being encouraged.
The community response to the COVID19 Crisis has been tremendous. From the moment the crisis became official,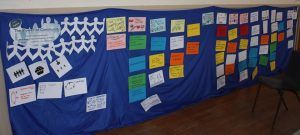 Community Councils, Community Groups, Local Businesses and individuals mobilised. They didn't wait for an instruction; they created communication platforms; they assessed community potential need; they leafleted every door in their neighbourhood; they linked up with foodbanks; they were problem solving; they were up and running providing crisis support for those in need within days.
What we have also seen across K&M is that whilst the response from the communities has been independent, many of the groups have worked and utilised the support and information supplied by the network of Third Sector support organisations; i.e. the Rural Partnerships and the TSI (Third Sector Interface); and the Local Authority Area Team. This movement being driven forward by the community but with that support system behind doing all it can to ensure the level of activity can be sustained.
Speaking to one of the Support Group organisers last week, it was commented that had this crisis happened seven years ago, she wouldn't have known where to start and acknowledged the value of the Third Sector support organisations fostering relationships with groups and organisations across K&M. Knowing where to go for help and advice and the strong links with partners focused on the same goal, to achieve the best outcome for our communities.
There is no doubt we have a long way to go before we come through this unprecedented situation and communities will be facing ever challenging times ahead. My focus is to look at how we can maintain the current levels of support and enthusiasm from these groups with the passage of time. We need solutions which are flexible and able to respond to changes in need. Although help is needed for the here and now, we need to keep sight of what needs to be done for the renewal phase. The support has to be progressive, transitioning into the recovery phase in line with community needs at the right time.
The approach in K&M has been effective… I describe how I work with communities to be like holding a handful of sand; if you hold and gently cup the sand it will stay with you; if you grasp the handful much of it slips between your fingers… What I have observed is that this approach has be adopted by many our partners; we are gently holding our communities and letting them get on with what they need to do but know that we are there if they need us…. There will be many outcomes from the COVID19 Crisis and I am hopeful one will be even stronger cross sector relationships.
We have just produced a 25 min film highlighting the tremendous community response in the area: