Across Castlemilk, local people and organisations are rallying round those who are affected by Coronavirus.  Local housing associations, youth and play organisations, football clubs, NHS health improvement staff, cafes, churches, the senior centre, community members, the relaxation centre, schools, nurseries: everyone is playing a valuable role sharing skills and resources. 
Castlemilk Together Community Food Action act in solidarity with those experiencing food insecurity throughout the year and had secured funding from Glasgow City Council's Food Programme for another round of "Food and Fun".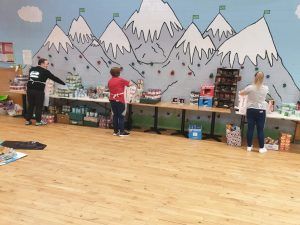 This meant they were able to organise quickly and collectively to ensure everyone has access to food, a phone call from LD Let's Talk, and support from Castlemilk Relaxation Centre such as picking up prescriptions or help getting the shopping in. Many local people are helping neighbours, family, existing friends and making new ones.
A Streetwise volunteer said "It's about the partnership working and being able to respond quickly on day one – it's been brilliant and we've been able to hit the ground running.  Everyone doing their bit is what makes Castlemilk a great place".  Many local workers are local people who are going above and beyond.
Together they've supported nearly 400 families by taking a bag of shopping to their homes and Castlemilk Parish Church have delivered to nearly 200 adult only households.  The Senior Centre make hundreds of delicious meals and provide all types of support for their members every week, meanwhile local drivers pick up and drop off donated food from across the city.
An 'Art:  People and Packages' group has formed to make Art Packages for children and co-ordinate the many poets, writers, singers, and artists in the area to perform and share and Castlemilk Youth Complex volunteers continue their invaluable youth work digitally.  Castlemilk Community Football have been vital by contributing toward resources, going from being local football coaches to local drivers and ensuring the families they work alongside are supported. Local housing associations play their part through co-ordinating, accessing funding, and helping reach those who would benefit most.  The Jeely Piece highlight, "We're all in this together for everyone in our community – we're happy to be part of this. We've all got strong relationships with families and we'd rather be doing this than worrying about them."
Now more than ever it is clear that if you live in Castlemilk it is very difficult to access a range of food and household items, something local people have been tirelessly working to change through the 'Supermarket for Castlemilk Campaign' and the award-winning film "It's Just Not Fair" by Castleton Primary School.
One local person told us, "I normally travel to Aldi to get what I need for my family within my budget, I'm not putting my family's health at risk by using public transport to get there and it's impossible to walk to and from my home with a double buggy and a shopping – I can't get it up the hill!".  Others have had their income dramatically reduced due to insecure employment, some report that they are struggling financially from having their children with them throughout the day meaning more food and more electricity and gas used, and others have to self-isolate and are unable to get to the few shops that exist.
Whilst this pandemic has amplified already existing structural issues, it has also amplified the skills, resources, and community spirit that Castlemilk is known for – like in the past, they're all in this together now and will be in the future.
If you would like to know more about Castlemilk Together you can contact us via our Facebook Page 'Castlemilk Together: Community Food Action' or email paddymckenna@cassiltoun.org.uk
(Update provided by Cassiltoun HA)