During the month of April 2020, 10,000 meals were distributed from Bridgend Farmhouse to people in need in the EH16 and EH17 areas of Edinburgh. This service is now being expanded and additional services are being added to help combat isolation, to support physical and mental wellbeing and to ensure local people are eating healthily.
In collaboration with local partners, Bridgend Farmhouse has developed a food resilience response to the COVID-19 crisis. We have recruited a kitchen team of volunteer chefs and a packaging and distribution team of catering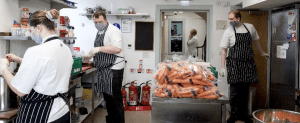 managers, many of whom have recently lost their jobs. They work in collaboration with an off-site team of volunteer logistics coordinators and a trained volunteer delivery team (complete with personal protection equipment such as disposable masks and gloves).
Bridgend Farmhouse is offering meal delivery to people in EH16 and EH17 in need. The bags contain a breakfast, lunch, snack and dinner, in recyclable packaging, that recipients can reheat at home. These are distributed principally through intermediaries such as local community, religious, educational, and health-sector organisations and other pivotal members of our local community.
One of the meal recipients is a mother of a 6 year-old child with Additional Support Needs, who had just finished university, was not able to start a new job as planned and was waiting for Universal Credit to be paid. She told us: "I can't thank you all enough. I can't begin to explain the feeling of knowing your child relies on you and you currently can't meet his basic needs. Thank you so, so much I will be eternally grateful."
From one of our community intermediaries: ""This place has been amazing – we have received 100's of meals to give to those most in need in our community over the last weeks and continuing each day. Always a smile on their faces too. Thanks Bridgend!" In addition to the food resilience response, we have created the South Edinburgh Mutual Support Facebook group as a platform for support and mutual aid in South Edinburgh.
We are engaging our regular volunteers and service users as well as other members of our local community through online services such as our Craft Collective. Together with Cycling Scotland and other supporters of our Bike Hub, the Bridgend Farmhouse Big Bike Revival Scheme for Key Workers, makes Bridgend Farmhouse bikes available for NHS and other key workers.
(Update provided by Bridgend Farmhouse)