Throughout the past 16 weeks our organisation adapted our services to provide support for individuals & families throughout the Easthall & Kildermorie communities. It would be fair to state that this has been perhaps the most challenging time we have ever encountered. Despite this, & as a positive amongst the adversity we have been able to reach out too many individuals & families that we may never have come across via our core services.
Pre COVID our core services included working with individuals with Additional Support Needs, with over 200 attending across a regular week. We worked with over 160 children & young people each week via Homework Clubs, Youth Clubs & various sports activities. We delivered our core services for as long as was physically possible, our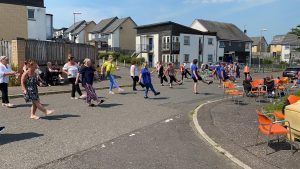 additional support needs service was stopped on 18th March & we operated our last children's/young person service on Saturday 21st March, prior to entering 'lockdown' on 23rd March.
Fortunately, we had been keeping an eye on the situation & had been speaking with our community from mid-March & this allowed us to instantly adapt our services & swing into action from Monday 23rd March. We leafleted all 800 homes within our communities & advertised out our COVID support contact details & criteria, anyone shielding, self-isolating, having been furloughed or had lost work due to the pandemic.
Initially we focused on providing 'Comfort Parcels' containing non-perishable foods & toiletries, these were tailored to individuals & families, each bag contained enough items for 3 meals per day to last one week. The support we were providing grew with demand & we introduced a Hot Food collection service & delivery for those that were shielding, self-isolating, pensioners etc, we would deliver & have a 5-10 minute chat each day adding a personal touch to the service. Throughout the 16 weeks we have provided the following weekly support:
Comfort Parcels – delivered each week (200+ per week)
Hot Food – prepared & served daily (150 each day, 50 delivered straight to homes)
Gas & Electricity support
Children's Activity Packs (110 each week)
My Life My Choice Additional Support Needs Activity packs (50 each week)
Over 300 Welfare Calls made each week
Weekly online Disco/Karaoke for additional support needs service users (35 per week)
Our support also focused on maintaining contact with our community & service users. We did this via our Social Media platforms & Microsoft Teams. We would put out a morning daily challenge at 10am, a daily activity at 1pm & an evening quiz or group orientated activity at 6pm.
With support from the Scottish Government & Tiny Changes we have been able to develop a full Digital Mental Health support programme. We have distributed 30 Android Tablets & offer both individual & group support via Zoom sessions. One of our staff members is a 4th Year Psychology student & leads on this programme supporting emotional awareness & mental wellbeing.
As we have negotiated through 'lockdown' & work our way through the phased stages of recovery we have upped our community engagement, we introduced a cycle loan scheme on 20th April with 18 bikes currently out on loan to adults & children.
We launched our Glenburn 'Oot & Aboot' project on 8th June. The focus of this project has been to build community spirits & to help individuals & families build confidence, support mental & physical health & most importantly to put a smile on people's faces. We have a full schedule of activities & they are delivered each day, activities include:
Cycling for beginners & confident cyclists
Street Bingo – (always finished with a socially distanced slosh)
Exercise to music – (delivered by a personal trainer)
Tik Tok Dances
Street Art
Fun Games – (Kerby, Pivar etc)
Carpet Bowls
T-shirt Designing
All of the afore mentioned support & our continuing support would never have been possible if it wasn't for the incredible funders that have backed us, we would like to thank:
Easthall Park Housing Co-operative
Foundation Scotland
The National Lottery Community Fund Scotland
Martin Lewis Emergency Fund
Corra Foundation
The Hunter Foundation (Wellbeing Fund)
Scottish Government (Communities Fund – Partnership with ERA, The Brunswick Centre, Brighter Baillieston & The Urban Fox Programme)
Celtic FC Foundation
Tiny Changes
Similarly we have worked alongside some amazing partners, this has allowed us to maximise support for our community. This has been a real positive throughout lockdown, the many organisations working together we would like to highlight Glasgow Caring City, The Urban Fox Programme, The Brunswick Centre & Brighter Baillieston for all their support.
If you require any help or support or know of anyone that may require a little help or to find out more about what we are doing, please feel free to contact Andy Gilbert on 07740981785 or email andy@eraglenburn.org.uk .
(Update provided by Easthall Residents Association)