Greener Kirkcaldy have been supporting the community by providing energy advice, delivering community meals and providing online resources.
Cosy Kingdom Energy Advice
Our Cosy Kingdom team is continuing to support people to stay warm and manage their energy bills during this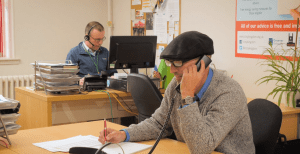 difficult period. Our energy advisors are currently operating a telephone advice service, offering support on billing and supplier issues, switching and gas and electricity debt, as well as advice on keeping on top of energy use. We are also providing emergency top ups for people who have run out of gas or electric and are struggling financially.
Community Food Support
Having had to suspend our Community Fridge Project and Thursday night Community Meal, we have been looking at ways that we can supply cooked meals to vulnerable people in Kirkcaldy. While there have been a lot of logistics in working out how to do this, our first pilot has worked well. Our Community Chef trialled cooking and delivering meals on a small-scale to people within our network. We are now working with local partners and community food providers to scale this up to enable more people to have a home cooked meal more regularly. We have also re-directed some of our community fridge donations to Kirkcaldy Foodbank.
Online Resources and Support
We have been busy planning a range of online activities including blogs, videos, tutorials and webinars to help people save energy, cook at home, make the most of what they've got, grow their own, look after their bikes, repair their clothes and more. This includes distance learning packs for participants on our Food Works! Training and Employability programme for people who are long-term unemployed. Our Community Chef is busy recording simple video and photo tutorials they can follow at home, taking into consideration low-incomes and irregular supplies of food
(Update provided by Greener Kirkcaldy)