Perth and Kinross Council brought together dedicated Community Welfare and Resilience in early March, tasked with ensuring that vulnerable people in communities across the region were cared for. This was part of the wider Command structure put in place by the Council to deal with emergency scenarios like COVID19.
The Workstream now numbers over 70 people focused on a shared outcome: ensuring vulnerable people get the food, medical and other vital supplies they need and they are safe in their homes.Within days we set up Community Support information pages on the Council website and a dedicated email address so anybody who needed support could contact the Council immediately – that has dealt with more than 2000 enquiries so far, from across a local authority area of over 5000 square km and over 140 villages and towns as well as Perth city, where a third of the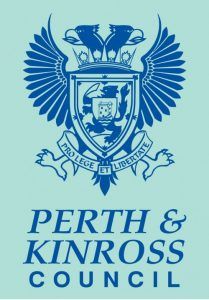 population live.  That includes people who needed foodpacks, shielded folk, those can't leave their homes because they're isolating – the queries have been varied and the team has sign posted and problem solved issues that nobody had predicted, as well as many that we had.
Each week emergency food parcels are sent to those most in need, using PKC staff to deliver the goods to householders who are isolating or vulnerable. We've distributed more than 500 food packs to those who are vulnerable or shielded. We have provided extra food for foodbanks, supporting them to support their communities as donations and volunteers initially declined in the first days and weeks of the crisis.
The team realised that there would be a huge call on volunteers, so set up a phoneline and form so we could easily understand what the person was able to do (drive, chat on the phone etc), as well as which area they lived in and whether they had a PVG check or not. Once the volunteer had filled in the form, they were given a letter which they could show to the police if stopped while out volunteering. We encouraged people who were already volunteering to add their name, so we could build a really complete picture of who was out there in the communities.
All volunteers were added to a geographical database which means that if we get a really urgent request, we can identify people nearby who are able to help. Some activities, such as delivering medication, require a PVG clearance or other check. We risk assess activities where required.
To date we've had more than 950 people volunteer. Many of those were already engaged in volunteering in the region, but others were new to the idea. Part of the task has been to support existing volunteer organisations where it is needed, as well as developing that new cohort of volunteers. A guidebook was produced which helped those new to volunteering – but it served as a useful tool for all volunteers as none had faced an issue like COVID19 before.
Our dedicated website for communities has been updated on a regular basis, helping people know where they can turn to in their neighbourhood for help. Our community team say this resource has been incredibly useful for them. Information has been translated into different languages and British Sign Language has been used where appropriate.
Community groups have been incredible during this time, supported where needed by the Council. They've made a bad situation much more bearable for many, with food, fetching medicine where needed and providing a conversation at the end of a phone line for those who are isolating alone.
A leaflet is going out in early May to residents across in the region with a handy list of numbers – we recognise that as time goes on and as people go longer in isolation, without work and without support, will have changing needs and we're ready to react to those as needed.
Finally, we're sharing good news where we can – stories from communities and families, people who have done good deeds – trying to show that there is still good people and good work out there and that we will come out of this as a stronger community.
(Update provided by Perth and Kinross Council)