In March 2020 the Royston community recognised the importance of coming together to work in partnership to develop a co-ordinated and structured response to the COVID-19 pandemic.
Spire View, Copperworks and Blochairn Housing Associations joined forces with numerous other partner agencies and individuals including Royston Youth Action, Rosemont Development Trust, Rosemount Lifelong Learning,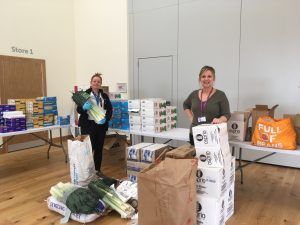 Councillor Allan Casey, Anne McLaughlin MP, North Glasgow Community Food Initiative, North Glasgow Healthy Living Community, Simon Community Scotland, Help 4 the Homeless and the Hub on the Hill Café. The aim of the Royston Coronavirus Response group is to offer and deliver support to those in need at this challenging time.
A successful application to The National Lottery provided £63,040 of vital funding to allow us to deliver food parcels and hot meals to our local elderly and vulnerable residents. With the help and support of volunteers, we are now delivering around 200 food parcels each week and 150 hot meals. We have also been able to support Royston Youth Action to provide packed lunches for children and families that they support in our community. In addition to this, we are receiving 30 additional food parcels from the North Glasgow Community Food Initiative each week, which we are distributing to those in need of support.
Frontline activities are being co-ordinated by the Housing Associations' Tenancy Support Officer, Geraldine Burgess, who is employed by the Simon Community, along with her colleague, Tracey Blair with support from Rosemount Lifelong Learning, other volunteers and Spire View / Copperworks staff. Co-ordination is taking place at the recently completed Roystonhill Community Hub and hot meals are being prepared by the Chef at the Hub on the Hill Café.
A recent funding bid was submitted to the Scottish Government and has resulted in a further £48,605 of funds being made available. This will allow us to crucially retain our COVID-19 Response Group Co-ordinator (Tenancy Support Officer) for 6 months. We will be able to support Royston Youth Action to provide packed lunches / hot meals for local children as well as providing activity packs to local kids and elderly residents.
As well as this co-ordinated partnership response in the community our Housing Management team at Spire View and Copperworks are contacting all our elderly and vulnerable customers on a weekly basis to ensure they are supported and feel less isolated. Our Financial Capability and Money Advice Services continue to operate and are supporting those in need of their services at this very challenging time.
As a result of our partnership with our funders at Power Up / Good Things Foundation we were able, through DevicesDotNow, to acquire 10 brand new electronic tablet devices for distribution to people in our community who were completely digitally disconnected. Recipients were provided with the devices and 24gb of data and are being supported by our Digital Engagement Officer, a post that is funded by Power Up / Good Things Foundation. Again we are working in partnership with Rosemount Lifelong Learning and Access Technology Scotland who configured and delivered the devices on our behalf.
(Update provided by Spire View  HA)