During these unprecedented times, GDA is doing its upmost to help disabled people in Glasgow and the surrounding areas to access the information and support they need to stay safe and well.
Following consultation with our Health and Safety Advisers, GDA took the decision to cancel all large events from Friday 13 March 2020. This was in line with the Scottish Government advice which followed at the end of that day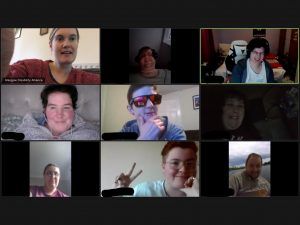 and their advice the following week, led us to reluctantly postpone ALL activities, smaller events and learning programmes until further notice. This was a difficult decision at the time because we were concerned about the social isolation disabled people live with already. However, with hindsight, and with scientific and medical evidence, it was certainly the right decision to make sure people stay safe and well.
We immediately sent a letter to all members informing them of the postponement of all face to face activities and giving clear information about Covid19 at that point.
We then set about developing our 3 step plan to drive forward our response to COVID 19 and our ongoing reach and support to disabled people:
A comprehensive membership engagement strategy which includes a detailed survey to establish the concerns and priorities of our disabled members and wider disabled people at this unprecedented time. As of Friday 17thApril, we have attempted to reach 2031 disabled people, directly spoken with 1229 disabled people and completed 1001 surveys on Survey Monkey, detailing key issues and priorities.
The survey is being done in multiple formats to reach as many people as possible – by post, online and by phone. We have also spoken to another 100+ people who have not completed the survey but who have shared concerns about COViD19 and the impact on their lives. The GDA team has collectively spent 220+ hours talking to our members, signposting, referring and supporting disabled people and their families at this time.
Our Resilience Response team has been helping our members with telephone support and has been coordinating essential shopping, medication prescription pickup and a variety of other needs and support.
As we continue with this important work, our Learning and Development Team members – usually focused on bringing disabled people together –  have begun to test out and develop new ways of connecting our members. This includes:
The Purple Poncho Players
Young Drivers for Change
LGBT network
Social Care Experience Forum
Future Visions
We also continue to provide welfare rights support and representation.
Good news: As we move into the third phase of our strategy, to bring disabled people together, virtually, we are delighted to say that Scottish Government are supporting us in this work. Work is underway in the background to bring learning online and to work with those most digitally excluded so that they can be once more connected to the vital supports that are needed to shore us all up at this time. Peer support, connections and access remain the cornerstones of our work and improving the lives of disabled people is our ongoing mission. Our general learning programme for disabled people has been developed for imminent delivery online.
I'd like to thank all our members for being incredibly supportive at this difficult time and to GDA staff for going above and beyond to make our strategy a reality so that disabled people feel the direct benefits.
Look out for updates on our website and social media channels – twitter and facebook for more information as we develop it.
Stay safe, stay well and stay home!
(Update provided by the Glasgow Disability Alliance)