The #KindnessMidlothian campaign was launched on the 18th March 2020. Midlothian Council delivered postcards with offers of help to 2,500 local people who get assistance through the wheelie bin pull out service.
An additional 12,500 postcards were then issued to single person households directing residents to contact Midlothian Council if they needed support. The council team screens each request and forwards onto other council departments, resilience groups or partner organisations.
None of this would have been possible without the hundreds of Midlothian residents who have volunteered to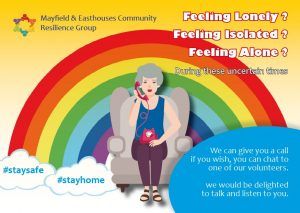 support their local communities throughout this pandemic. Midlothian Council has been overwhelmed by the offers of support from communities and local businesses.
Midlothian's communities were able to respond quickly to the Covid19 crisis as they have a strong network of community councils and community anchor organisations, for example, we have 500 registered volunteers between the community council areas. Volunteers are involved in preparing and delivering hot meals, delivering shopping, collecting prescriptions, making welfare calls, providing activity packs and posting letters to name just a few. In just one week our communities prepared and delivered 1,971 hot meals and provided support to another 51 new referrals.  Despite being in week 10 of lockdown there continues to be new residents reaching out for support.
Community resilience groups, local community groups and the wider community have worked tirelessly to adapt to the changes in circumstances. People have been supported to engage with new technology, alternative payment methods have been set up with local shops, televisions have been donated to nursing homes, online cooking sessions have been organised, people have been litter picking as part of their daily exercise and singing and dancing sessions have been taking place on Zoom. Community organisations have also started thinking about how they can adapt their delivery of employability courses, Gorebridge Cares are now offering REHIS training to local residents online.
One of many great examples come from the Mayfield & Easthouses Community Resilience Group and evidences the work being undertaken to address social isolation.
In a single week in April 2020 our communities delivered the following:
40 new volunteers were registered.
4 volunteers were PVG.
300 new referrals to resilience groups.
93 emergency food parcels delivered.
2943 hot meals delivered.
75 new shopping assistance requests.
93 repeat shopping assistance requests.
88 new prescription collection requests.
178 repeat prescription requests.
Midlothian Community Councils and local resilience groups are now scenario planning with the support of our local third sector interface for what's next in the Community Covid-19 response.
(Update provided by Midlothian Council)