Always keen to support where we can whilst adhering to the "Stay at Home" message, Arbroath Community Council, a local group of dedicated volunteers, chose to answer one of the very first SOS calls during the COVID 19 pandemic by joining the ScrubHub project.
Working alongside a talented group of fundraisers and volunteers this project set out to produce handmade scrubs for local Health Professionals, Healthcare workers in Arbroath and the surrounding areas in Angus. So popular was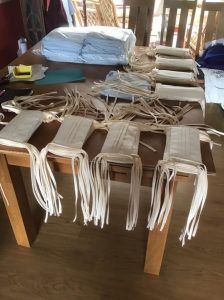 the Scrub Project that this further developed into producing and offering free washable facemasks to the public.
Fundraising was led predominantly by a GoFundme page which was supported by the generosity of members of the local community in order to cover the costs of both the fabric and materials involved and was further progressed by our youngest volunteer Jake Stanger who at 6 years old raised a whopping £945 by climbing the equivalent height of Ben Nevis by ascending the stairs in his house.
Further support was offered to Frontline Food, a charitable organisation which has produced over 10 thousand free meals to both vulnerable and key workers in the community. Sadly we were only able to assist in the final part of the process by way of offering a delivery service to the clients of the projects champion Mr Connor Taylor, a local chef and his team of volunteers, who have put their skills to great use during such difficult times. As a result, Connor has recently been nominated as an "Arbroath Hero ", an accolade very rightly deserved.
Arbroath Community Council serves only to support and represent the members of the community by making Arbroath a better place to live, work and visit and we are always looking for new members to join us.
Should you wish to find out more about our group or indeed should you wish to join please do not hesitate to contact us at arbroathcommunitycouncil@gmail.com.
(Update provided by Arbroath Community Council)