Govan Youth Information Project (GYIP) received a grant from Glasgow City Council Children's Holiday Food Programme to deliver our busiest piece of work (120 young people per session twice per day) for the 2 weeks of Spring which had to be cancelled due to the COVID-19 outbreak.
We quickly adapted the plan so as to be able to still provide food for those young people most in need thanks to the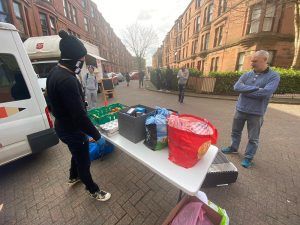 flexibility in the Council's guidelines in terms of spending the grant.
Anticipating that the schools had finished until summer break we projected that we would deliver 14 weeks of food provision.
To accomplish this, we had to divert the large majority of the Councils grant towards food costs as well as seek other funds to cover the shortfall.
By working in partnership with Govan Housing Association, who had already contacted The Salvation Army, we decided to offer a community food provision 5 days a week at different points in Govan.
The Salvation Army would offer hot food for the community from their food truck and we could offer packed lunches from our mini bus for young people.
We have been supported by many partner agencies too, such as Kaytie from Make do Grow who made craft packs to be distributed, and Gerry from Unlockemployment who has volunteered distribute lunches.
Through an email chain created for partners regarding COVID-19 agencies are able to share information and see what others are offering.
The food provision so far has been a great success, resulting in two funders contacting us asking to make donations. It is also very much a partnership approach to sharing resources and working together.
The negative effects and impacts of COVID-19 has certainly seen partners draw on their strengths and resources and share to best meet the needs of the community.
GYIP is happy to contribute towards this.
(Update provided by GYIP)