Covid19 is impacting us all. People are concerned about their families, friends and communities. Thankfully many people in all sorts of ways are working together to support each other.
Glasgow City Council wants to highlight the work of the Glasgow Council for the Voluntary Sector (GCVS) and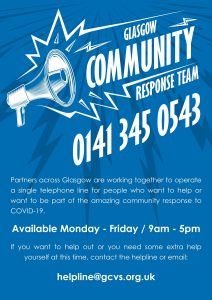 the services they are providing to support communities across Glasgow.
GCVS has launched the Glasgow Helps website specifically to highlight where there are additional services that people can access at this time or where there is spare capacity for new clients. (Not sharing details where services have no extra capacity). Please share this information widely and use it to connect people with supports.
GCVS will keep the directory updated frequently.
If you have a support that could be included please send them your information: Community Supports Around Covid-19 Survey.
• Are you providing support to people around Covid19?
• Have you set up a new service to deal with what is happening?
• Can your group or organisation support new clients?
• Do you have services with spare capacity?
If they have included your support already and details change, eg you can no longer support new people or if you have any questions, please email CLD@gcvs.org.uk
GCVS will circulate new versions of the directory via their website, twitter (@GlasgowCVS) and our newsletters & mailings. Sign up to those on the website.
In addition, Glasgow CC are offering signposting to information from organisations such as SCVO, funding support, and information on food provision, including their own Children's Holiday Food Programme.
They are also highlighting relevant online chat forums for community groups to join and work together, sharing best practice approaches.
Businesses can apply for support via the Coronavirus Business Support Fund.
Information on all of the services can be found at https://glasgow.gov.uk/coronavirus 
(Update provided by Glasgow City Council)