An initiative of Lanark voluntary organisations have created a 'Lanarkhelps' phoneline to provide practical community support during COVID-19. Groups involved include: Lanark Churches, The Royal Burgh of Lanark Community Council, Lanark Community Development Trust, Clydesdale Community Initiatives and Healthy Valleys. Project governance overseen by Greyfriars Parish Church, Lanark, a registered Scottish charity number SC016504.
'Lanarkhelps' launched on Wednesday 15th April 2020, and has been very well received by the local community.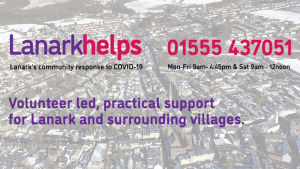 Requests for support can include essential shopping, prescription collection, power top-ups and befriending / wellbeing signposting.
The helpline is staffed by friendly, trusted and experienced volunteers, many of whom who live locally. The community can access the helpline by calling 01555 437 051.
The volunteer-led helpline is for people who:
live in Lanark and surrounding villages (New Lanark, Nemphlar, Kirkfieldbank, Cartland, Ravenstruther and Cleghorn)
aren't in the shielded group or don't fit the criteria for the South Lanarkshire Council Wellbeing Line (0303 123 1009)
are isolated with no local support
need help with shopping or collecting prescriptions
need a person to talk to (telephone befriending).
Opening hours: Monday to Friday 9:00am – 4:45pm, Saturday 9:00am – 12:00pm
Visit the Lanarkhelps website to find out more: https://www.lanarkhelps.org.uk/
Please share this information with anyone you feel would benefit from it.
(Update provided by Lanark Development Trust)