Edinburgh charities unite to deliver over 11,000 free meals to the vulnerable during lockdown. Charity and community groups in Edinburgh have joined forces to deliver over 11,000 free, healthy meals, toiletries and cleaning supplies to vulnerable individuals and families during four weeks of lockdown.
More than a dozen organisations have come together to form the North Edinburgh Covid-19 Foodshare Group, supporting those in food poverty or experiencing hardship as a result of the coronavirus pandemic.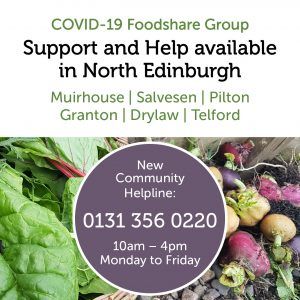 Despite launching only four weeks ago, the group has already coordinated community groups and volunteers to safely deliver a record number of healthy meals to those who need them most. It now aims to deliver over 15,000 meals each week, thanks to support from funders, donors and members of the public.
In just one week, more than 10,000 ready-meals and sandwich packs were delivered to residents in Muirhouse, Salvesen, Pilton, Granton, Drylaw and Telford, as well as more than 1,000 essential food, toiletry and cleaning supply kits.
A phoneline has also been launched to handle requests for assistance.  Locals in Muirhouse, Salvesen, Pilton, Granton, Drylaw and Telford can call 0131 356 0220, with the hotline open from Monday to Friday, 10am to 4pm.
Due to high demand, the group is asking funders and members of the public to help them reach more people living in food poverty by funds. All money raised will go towards supporting vulnerable people living in Edinburgh during the pandemic crisis.
To ensure deliveries were made safely, 100 charity and voluntary sector volunteers and keyworkers were trained in Covid-19 safety protocols by Scran Academy to ensure everyone adhered to government guidance on physical distancing.
Willie Black, Chair of West Pilton Neighbourhood Centre, said:
"This is a truly remarkable effort. It's a great demonstration of the power of communities pulling together, working in partnership to build a new future for north Edinburgh.
"It's an extremely difficult time for vulnerable families and individuals across the city. They may have experienced homelessness, be elderly or socially isolated. Getting support out to them is our priority and we have been overwhelmed by the generous support of our funders and donors. But there is more to be done. We estimate that to meet the demand we need to deliver a minimum of 15,000 emergency packs per week. On the other hand, we are trying to manage our supplies to ensure we have enough to go around while this pandemic continues to affect us all."
Residents who have already received packages from the Group have described the resource as vital for enabling them to feed their families.
Family from Muirhouse:
"My husband has lost his job, and we were 2093 in the queue to speak to someone at Universal credits, 14 hour wait, no money, no food. My health visitor referred us to Covid-19 Foodshare Group and they just appeared with food and packed lunches for us. I have never cried to see food to feed my kids, but I just have no money. They turn up every day with packed lunches and for the last three weeks a food parcel has appeared at our door."
Muriel, elderly Drylaw resident.  Husband in care facility:
"Many many thanks for your kind and considerate actions. To the staff, you have no idea, how your thoughts for older isolated people impacts on our daily life.
The comfort and solace it gives to us, when you are alone and can't reach out to touch our loved ones  is like winning the lottery, an absolute god send to me!
Thank you from the bottom of my Heart"
Isolated resident from Pennywell:
"Please let the chef know that the mushroom soup was absolutely amazing and fandabbydozy"
Family from Pilton:
"Both me and my partner are temporarily out of employment, with 2 kids at home. The first week we survived thanks to the kindness of a neighbour. I really appreciate the food packs and the different foods we are receiving now. It has saved us". 
 Single parent from Granton:
"I want to send my appreciation first of all by sending you this message. You guys have helped my own household and my sons during this pandemic. I think we might have really struggled if it wasn't for all the good work you guys are doing for the community, you are all amazing". 
(Updated provided by North Edinburgh Arts)