Back in March, like every theatre across the country, The Gaiety went from being a busy community hub to having an empty building overnight. The organisation had no option but to furlough the majority of staff.  And the already small team dropped down to four, mostly working part-time.
But despite this massive blow, the board re-emphasized The Gaiety's purpose to connect artists with audiences and to improve wellbeing.  While the theatre building is key to this goal, The Gaiety has always been more than just a theatre. It's a real focus for community activity and a key part of the Town Centre.
After attracting funding to keep the organisation solvent at least for a time, the team worked with other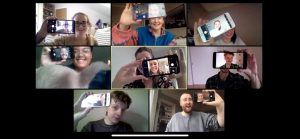 organisations across South Ayrshire to coordinate a successful joint bid to the Scottish Government's Supporting Communities Fund. The Gaiety is now enabling 16 other organisations to deliver emergency support ranging from food and clothing to tackling digital inclusion and providing  wellbeing support to those in need.
The Gaiety Creative Learning team have also had backing from the Scottish Government's Wellbeing Fund for the 'Participate' thread of The Gaiety Lockdown Season.  This programme of workshops and digital work aims to connect people and improve mental wellbeing – through a series of activities led by some of Scotland's leading and emerging artists.  Under a banner of "Do you need a wee dose of happiness right now?" local people can sign up to work with some of Scotland's most exciting artists including playwright Douglas Maxwell, UK national slam champion Leyla Josephine, Scottish Alternative Music Award Winners VanIves, Turner prize nominee Monster Chetwynd and many more.
The 'Watch' strand of the channel – which launched at the end of June – is hosting recordings of work made before the crisis.  But it will also be home to new work too.  Gaiety Youth Theatre groups have been creating new work in Zoom sessions over the last few weeks, and this will premier on the channel.  And at the end of June rehearsals started for a brand new play by Tartan Noir novelist David Ross.  With direction and dramaturgy from Stuart Hepburn and actors Colin McCredie, Tam Dean Burn and Sarah McArdie already hard at work – this is a real effort to create new work.
Despite attracting new funding The Gaiety's future is as uncertain as other theatre's in Scotland, and The Gaiety is about to launch an appeal for donors.  But the team believe the current activity continue to demonstrate just how important the theatre is to the area, even when the building is closed.
The Gaiety's new projects are an easy sign up from their new Gaiety Lockdown Channel website www.lockdown.thegaiety.co.uk
(Update provided by The Gaiety)