WHALE Arts, a creative arts organisation, based in Wester Hailes who have continued to support our community by providing various services including; hot meals, creative activities and online learning.Food Provision – we now have an operation that works well with a combination of staff and volunteers cooking 150 hot meals a week, most sent out to families and individuals, with around 30 picked up on a Friday. The goal over the next few weeks (until end Aug) is to reduce the number of hot meal deliveries and increase pick-ups from the takeaway. We have had a small group of volunteers and staff who have made this happen and each week improved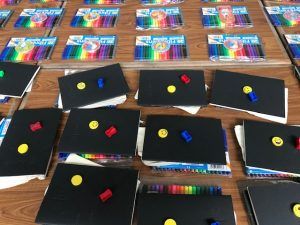 the service and we are hugely grateful to all those who have given their time for free including drivers and those helping with food preparation.
Art / Wellbeing Packs – we have now sent over 1500 packs to families and schools and thanks to the Scottish Government funding from Supporting Communities we were able to buy high quality materials to include in the packs. By September this figure is likely to be over 2000. We recently sent Art Packs to all 3 local primary schools and the local high school  for pupils over the summer holidays and the response has been hugely positive from the headteachers / teachers. This has only been possible through the outstanding work of our freelance artists and volunteers who have been working on an art /wellbeing pack production line over the last few weeks.
Friendship Calls – these have continued with the team and volunteers during lockdown having split our participants and any new people who signed up for calls through the referral system. We have a conversation, a catch up and if needed we refer people into other services locally where required (counselling, therapy, food packages, etc).
Digital Devices / Remote Support – we have been buying ipads, laptops and phones for local people and undertaking a range of remote digital skills support for individuals. We have secured funding from Supporting Communities to expand on this between now and September and we have plans to start a new digital drop-in on zoom for those looking to take their new digital skills to the next stage.
Online Courses / Classes – all our freelance artists have been creating online classes and at points this has been complemented by materials being sent in the post to participants. These can be viewed here – http://www.whalearts.co.uk/online-classes/
Digital Sentinel – printed version. In the next few days we will publish a printed version of the Digital Sentinel (Wester Hailes Community News Website) sharing happy, positive news from lockdown – from locals groups and orgs and also residents. We may do an additional (different) print run in the autumn. Logistical challenge around getting 7000 newspapers out to homes in WH but we didn't want to let this be a delay and we have worked through many bigger challenges the past few weeks! Our local partners are very keen for this as they know that some of the older residents love getting a local paper through the door as it reminds them of the days when the Wester Hailes Sentinel was in operation.
We received £20,000 from Supporting Communities fund to distribute Small Grants distributed by WHALE Arts as a community anchor organisation, as of the end of June we have distributed all but £2000 of the £20,000 to local residents groups picking litter and buying clothes and supplies for families, to churches moving services online and buying and sending out board games to local families, through to organisations sending free herbal remedies to people and taking young people cycling, and to do bushcraft and outdoor cooking.
Programming Transition
We have started to think about what the adult and young people's programme might look like from September onwards. We are moving very slowly and carefully but considering that we may be able to start some programmes using the garden from the late summer/autumn in line with schools reopening. We are planning a Children's Film and Book Festival in the autumn, looking at outdoor projections, using phones, and setting up the Little Free Libraries project which started in 2018 working with the library and other youth / community centres in the area.
Communications / Networks / SW & WH Collaborative Working
Go Beyond – Leah Black CEO of WHALE Arts has been working with partners Bridie Ashrowan CEO from Space and Broomhouse Hub and Craig Wilson General Manager at Big Hearts on this network across SW Edinburgh. We meet 2-3 times per week working on some focused areas such as food provision, mental health, young people and the summer holidays. Our Supporting Communities applications were made as a joined up approach across SW Edinburgh. This is something that we plan to continue post crisis. We use Slack to communicate.
Wester Hailes Together / Living Well – Leah Black from WHALE Arts worked with partners on Wester Hailes Together which was a crisis response for Wester Hailes, chairing fortnightly meetings along with with Emma Cormack the new CEO at The Health Agency. It has been very helpful having this network during the crisis and has led in some of the fantastic ideas that have come through the small grants fund (mentioned above). Living Well Wester Hailes is an established network set up by an innovative GP in Wester Hailes, Peter Cairns, and because these are similar groupings of people and ideas Wester Hailes Together has been merged into Living Well and Emma Cormack and Leah Black will soon take over co-chairing of Living Well Wester Hailes.
(Update provided by WHALE Arts)