Point and Sandwick Trust (PST) is a social enterprise and not-for-profit charity based on the Hebridean Isle of Lewis.  The Trust operates the UK's biggest community wind farm and uses its income to support initiatives across the Western Isles. 
In response to the Covid-19 pandemic, PST suspended normal operations and pledged to divert all unallocated funding towards their Pandemic Community Support Fund.  Efforts to support the island community have been wide ranging and offered significant positive impact.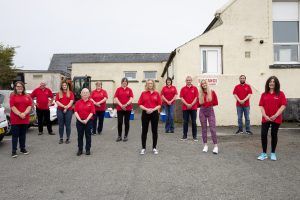 Initially the Trust donated £40,000 to NHS Western Isles in support of frontline staff and Covid-19 patients with plans for funds to also benefit cancer patients in hospital during the pandemic.   Working together with Lews Castle College, PST were able to support the local manufacture, and delivery of much needed PPE to NHS and care home staff across the Western Isles.  Protective visors were delivered to staff at seven local authority care homes, three private care homes and three hospitals in Stornoway, Benbecula and Barra.
On a more local level, within the 18 villages of Sandwick and the Point peninsula, PST has been working together with local Community Councils to support residents.  With a population of 3,000, many in the remote area are older and live alone. Lockdown posed a significant risk of increased loneliness, difficulty sourcing food and shopping for the most vulnerable in the community so initiatives to ease these pressures were highlighted as vital in the local Covid-19 response.  Using income from the wind farm, and funding generated by a successful grant from the Wellbeing Fund and from Scottish Government and Highlands and Island Enterprise, PST has been able to introduce two new schemes to support the community.
In May, two new jobs were created to deliver a Local Shopping Delivery scheme.  Working to support the local shop, and businesses in nearby Stornoway, orders have been delivered to those living in the Point and Sandwick area for free.  The introduction of the Community Wellbeing Service has also been highly successful with one full time member of staff and eleven local volunteers working to deliver a telephone befriending service and freshly cooked meals to those in need.  Local recipients have been enjoying freshly prepared meals delivered to their door, every day if necessary, easing pressure and giving much needed support to the community.
With churches, local meeting places and community cafes closed, the inspired lockdown photography project has also been a great hit with people in the area. Local photographer Sandie MacIver has been working with PST to document lockdown and offer a much-needed (socially distanced) chat on the doorstep and sharing the shots online.  Sandie has produced some stunning doorstep photos of this island community which are helping to buoy morale, create upbeat talking points and boost the sense of community, even in these remarkable times.
(Update provided by Point and Sandwick Trust)