The outcome of the recent 'Brexit' referendum indicated that, in contrast to many other parts of the UK, voters in Scotland hold a generally favourable view of the European Union. Could Scottish regeneration practitioners draw encouragement from this by doing more to explore and develop links with our European neighbours? In this feature, visual artist Katharine Wheeler highlights the impacts of an innovative approach towards revitalising Dumfries by building on its historical connections to Norway.
In the current political climate and unchartered waters of our future it seems more important than ever to celebrate the rich cultural diversity that has formed the places we live and the societies within them.
'Our Norwegian Story' is a project run by The Stove Network in collaboration with Lateral North that explores Dumfries' unique connections to Norway and the contemporary interest in Nordic culture in Scotland today. At its simplest it is a cross-disciplinary arts project looking to improve this former market town's streets through celebration of its multi-cultural history for residents and visitors alike to take active pride in.
At its most ambitious it looks to use this narrative as a tool to re-imagine the future of our town through creative wayfinding and shape street-scaping plans into the future. The Stove aims to make the arts an integral part of the regeneration agenda in Dumfries, a large town in south west Scotland, and to inform policy-making decisions at a national level.
One Scarf, Many Threads
From whalers and Norwegian exiles arriving in our town during WWII (at one point 20% of our population was Norwegian, being the headquarters for the Norwegian Free Army and the birthplace of the Scottish Norwegian Society we know today) to the recent discovery of the Galloway Viking Hoard, Dumfries' Nordic blood runs strong but remains a lesser-known part of its history.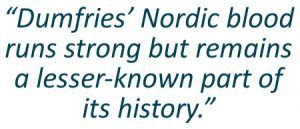 'Our Norwegian Story' highlighted the significance of this relationship during initial workshops with cultural partners within the town and later explorations with local residents to find creative ways to interpret and showcase this part of Dumfries' history. Ideas of conversational seats, football in the streets, public art installations and journeying trails all helped to form the Heritage Lottery funded (£37,000) phase we have now begun which will see the creation of an interactive Norwegian Heritage Trail through the town centre and six main associated events.
With the aim of sharing, learning and celebrating, we have been eating waffles, trying cod roe and kransekake (not together) during our recent Recipe Swap event, with beaming smiles of shared food and memories. July brings boat building, rope making and knitting patterns blending together Scottish and Norwegian traditional designs and techniques into one with further events continuing through the year. The diversity of activity reflects the cross-generational interest and has already begun the forging of friendships and strengthening relationships locally and across the water to Norway.
To make best possible use of these opportunities the project includes a research-led artist in residence to ensure the focus of our Trail is exciting and relevant within a current context as well as provide continuity across our events. Kirsten Bertelsen, a Danish artist with extensive work already in Norway, will collect stories, memories, absorb current reactions and interpretations, challenge ideas and associations to inform the design of an innovative interactive trail that evolves through the life of the project. Material gathered and created during the course of the project and events will form the content of a Living Archive, a webpage that houses our trail and acts as an educational resource for Dumfries' Norwegian Story.
People, Culture and Place
A creative approach allows the project to challenge as well as collect, gather and hold. What does it mean to be able to offer refuge: is it something we would/could provide today? Participants are encouraged to explore relative themes of journeying, refuge, exile around this story, both personal and within our wider society. A combination of learning from direct source material, conceptual exploration and future visioning brings with it individual empowerment, and the ability for a cultural heritage project like this to work at a local level to become an integral part of policy making around our town's street-scaping plans.
The project forms part of The Stove's creative mission to actively involve citizens of Dumfries in making a new grassroots future for the town centre – which, in common with many other Scottish towns, is in a process of rapid decline. The Stove Network is a membership-led organisation that runs a fully accessible public arts space/facility in the high street of Dumfries.
It uses process-led participatory methods to run a programme of regular events, workshops and opportunities for the community to engage and empower themselves and inspire our local economy and wider society. Lateral North is a key partner in the process. The Glasgow-based design collective looks to investigate Scotland's new place and identity within an economically emerging northern region, exploring the relationship between people, culture, places, industries and economies.

Sustainable Strength
'Our Norwegian Story' aims to add another layer of richness and cultural ownership to the town centre as well as forging new links with other cultures for local people to use. It connects up current pockets of activity and organisations with a strong historical relevance within this Norwegian relationship, such as local football club The Greystone Rovers (who have played regular exchange matches with Norwegian club SK Brann since 1946), to help reach as wide an audience as possible and support sustainable growth of opportunities into the future.
Engaged practice and the space for ideas to evolve with the progression of the project allows individual elements of the project to take on a life of their own. A Norwegian aspect to our regular market, for example: a cookery book as a means to lead us around our streets and interact with local food outlets are a few such ideas that have already begun to grow.
'Our Norwegian Story' is an example of how an art project can use a community-engaged approach to shape and make better use of the urban environment. Strengthening partnership work with local organisations and council bodies as well as forging national and international relationships to improve the town's centre and connection to the wider region and encourage celebration of a multi-cultural diverse future.
If you would like any further information on this project or have Norwegian connections of your own to add to the Stove's exploration of this story, please get in touch with Katharine at katharine@thestove.org. Further information on The Stove can be found at www.thestove.org.