Glen Housing Association is a registered social landlord based in Fife. It was formed in 1998 from the merger of two small community based Associations, Collydean Community Housing Association and Glenfield Housing Association (both formed in 1992).
We own and manage around 500 properties in Glenrothes and Levenmouth and although most of our housing stock is made up of general needs houses and flats, we do also provide wheelchair adapted and amenity bungalows.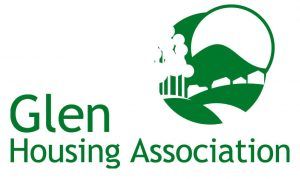 Due to our small size, we had a very limited budget to provide a direct community response to the Covid crisis. We therefore took a different approach from many other housing associations and worked in close partnership with other community anchor organisations.
In Glenrothes, Glen Housing Association has been supporting and working in partnership with Collydean Community Centre for many years. As the Centre was preparing to shift its remit and become a Covid crisis centre by gathering external funding, enrolling volunteers and forming other partnerships, Glen provided staff time, vehicles and monetary contributions.
Since March 2020, Glen Housing Association and Collydean Community Centre have been working in partnership with Fife Council (Community Education), Fife Voluntary Action, British Red Cross, Age Concern, Fife Fire & Rescue Services, Rotary Club of Glenrothes, Granary Baptist Church, Fife Gingerbread, NHS Fife Health & Social Care Partnership, Andy's Man Club, Women Wellbeing Club, Glenrothes Foodbank, specialist agencies, and local businesses to provide a wide range of support services to the North Glenrothes Community, and beyond.
Around £84,000 of external funding has been received from organisations such as the Big Lottery, Stephens Bakery Foundation, Neighbourly Community Fund, Scottish Government's Supporting Communities Fund, Community Wellbeing Fund, Foundation Scotland, Fife Council, as well as donations from local business owners and community members.
The response from the local community has also been overwhelming, with many local residents providing goods, time or money to help support less fortunate individuals. The Centre have recruited over 150 volunteers to date.
The support available to the North Glenrothes community include the following:
Shopping service for people shielding, self-isolating or struggling to access shops
Delivering emergency food parcels on behalf of the Foodbank (both Collydean Community Centre and Glen Housing Association can provide foodbank referrals), and preparing and providing emergency food parcels to people referred through Fife Voluntary Action's Helping hand project.
Community pantry, fridges and freezers for the local community
Food Resilience Project distribution centre for Glenrothes High School and Glenwood High School
Picking up prescriptions and medical supplies for people shielding, self-isolating or struggling to access a pharmacy
Disbursement of funds to specialist agencies or grassroot organisations
Telephone befriending service
Telephone support for people affected by mental health and wellbeing issues, with socially distanced face-to-face meetings available for severely mentally affected people
Digital connectivity (offering free smart phones with unlimited texts & calls for three months and free Wi-Fi, Kindles/tablets to the elderly & vulnerable)
Third Sector Referral Agency for One Parent Families' Coronavirus Emergency Energy Fund
Presence in the Centre of a Youth Justice Officer from Safer Communities, Fife Council
Offering digital youth club each Thursday from 6-7.30pm for Primary school aged children
Offering health & wellbeing projects such as "Growing Together" (grow houses grow bags, gardening kit, sunflower seeds, tomato plants and potatoes)
Making up gift baskets and delivery for the elderly & vulnerable residents in the North Glenrothes area. Funding has been donated by a local business man, North Glenrothes Community Council, RWE (Biomass Plant) and local company Sandusky Ltd
Connecting and coordinating activities in other areas within Glenrothes and Fife
(Update provided by Glen HA)