Everything is different but nothing has changed. As March progressed we all slowly came to the conclusion that the way in which we served our communities would have to change radically in the coming days, weeks and months. 
Kinning Park Complex operates a pop up community café two days a week that serves in excess of 100 people every week.  Already without our usual building, as we prepared for a major renovation of the area's key community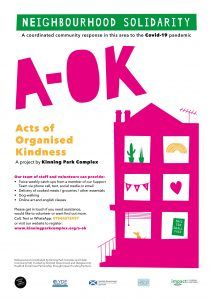 facility, it seemed that we would have to be prepared for a world in which members of our community no longer came to our community café, but in which our community café came to them.
As a small and agile organisation our transition to different ways of working was rapid and relatively problem free, much more so than larger organisations, which are much slower to change. Local focus means that our connections to our community are stronger and we can quickly identify need and implement solutions.
Our café always worked to reduce inequality, tackle social isolation and improve health and wellbeing. Nothing has changed in that respect. Conversations around the tables are now conversations over the phone, via text message and on video calls. Food is now delivered and not served, but we still want to make sure that no one in our neighborhood is alone, goes hungry or does not have access to the support that they need.
None of the challenges that we face have changed. Health and wealth still insulate communities and individuals from the daily challenges they face. Our job is still to create and share resources, to work to improve and maintain the health of our communities and those in them. Resilience, partnership, hard work and innovation are still the best approach.
The only thing that has changed is how fast we need to build and how far we think we can go. Everything might be different, but nothing has changed. It is only by working together and looking out for each other can we make sure that we are all A-OK.
(Update provided by the Kinning Park Complex)