Three housing associations in Govan have been working hand-in-hand with community groups in the fight against coronavirus.
Linthouse, Govan and Elderpark Housing Associations are at the forefront of the massive community-wide effort to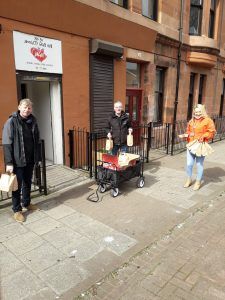 reach out to tenants in need of help.
In an unprecedented show of unity, they have, by their actions, reinforced the vital "community anchor" role housing associations fulfil.
None of this would be possible without an army of volunteers and community groups in Govan galvanised into action by the sheer scale of the health emergency.
These include the children's charity Aberlour, Govan Youth Information Project, the "Moogety Foods" project and The Preshal Trust.
At the heart of all of this is the drive to reach out to tenants who are isolated, vulnerable or may be being "shielded".
They have become the top priority with hot food deliveries being made, prescriptions being collected and a friendly call to ensure they are coping with lockdown.
Now in a major new development, the three housing associations along with Govan Thriving Places and four local councillors, have secured £200,000 in emergency funding from the Scottish Government to deal with the effects of the virus.
Irene Campbell, chief executive of Linthouse Housing Association, said: "This money is hugely-welcome as it will turbo-charge our efforts to help our tenants and the wider community. As is so often the case, local people look to their housing associations for help and leadership in times of crisis."
Fiona McTaggart, chief executive of Govan Housing Association, added: "Govan Housing Association is delighted to be working in collaboration with the TEFG to assist in addressing the ever-changing community priorities recognised throughout this pandemic."
Gary Dalziel, chief executive of Elderpark Housing, said: "We will now get to work on how this money should be spent making sure it is used to assist people who really need our help."
Councillor Richard Bell of Govan Thriving Places, added: "This is an example of the local community working together with our colleagues in the housing association sector for the betterment of all of Govan."
(Update provided by Linthouse HA)