Plantation Productions is a registered charity delivering a wide range of arts and media activities and events in the south-west area of Glasgow.   Since 2001 they have been providing  opportunities for people of all ages and backgrounds to benefit from engaging in the creative arts, where access to such services may otherwise be limited.  They deliver an outcome based programme which aims to increase the life chances of people facing disadvantage; improve opportunities for families and communities and raise the profile of the area they serve.
The theme of this year's SURF annual conference was "Creative Alliances in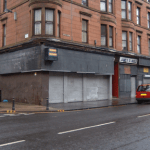 Community Regeneration".  In her keynote speech Lia Ghilardi emphasised the point that we should not forget our abandoned, disused spaces when mapping our community assets.  As a delegate from Govan, Lia's presentation struck a chord for me, as it was precisely this approach that had inspired the vision for "The Portal" – the vision to turn a row of long-derelict shops on Govan Road into a vibrant community arts hub.
The concept had evolved from our high-profile "Govan Gathering Light" projects, which took place from 2003 to 2006 and brought together local and international artists, filmmakers and community groups to shine a light on the potential for Govan's disused spaces.  Like missing teeth, these gap sites reflected the decay and neglect of a community devastated by industrial and economic decline.
When I first came to work for Plantation Productions in 2006, the organisation was already working in partnership with Govan Housing Association, Govan Initiative  and Roots in the Community to develop The Portal as one of the first stages of the Central Govan Action Plan.
With plans for major housing developments in the area – including the renovation of the empty tenements above the derelict site – Govan Housing Association had recognised the need to explore an alternative use for these defunct shops. The partnership shared our belief that community engagement through the arts could inspire social change and make the area a more attractive place to live, visit and work.
Our proposal was acknowledged and funded by the Scottish Arts Council and Glasgow City Council, and we were handed the keys of The Portal in December 2007.  It was then that Plantation Production's work really began – to create opportunities and bring the community on board.
We have always taken an outcome-based approach to our project delivery and embraced partnership working as a means to address local and national priorities. Being based at The Portal meant we were now more visible, more accessible and – most importantly – more responsive to the needs of the community. An ongoing arts programme, created through local demand, enabled us to develop relationships, signpost services and build capacity on a long-term basis.
Six years on, The Portal is home to Sunny Govan Community Radio, the Portal Artists in Residence, Gallery 966, Connect meeting/workshop space and is the hub of our "Making Art Matter" programme – providing creative activity in community venues, libraries and schools across the South West of Glasgow.  We have nurtured emerging talent and provided employment and training opportunities in the creative industries – a sector worth £5 billion to the Scottish economy*.
Our projects have helped raise the confidence, aspirations and wellbeing of hundreds of people aged from 5 to 95 and project strands now include Children & Families, Young People, Skills & Training, Arts & Wellbeing, Seniors & Intergenerational, Crafts and Community Events & Festivals with additional income generated through high quality film commissions.
The children we worked with in the early years are now young adults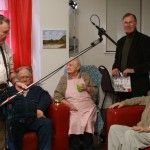 considering their future careers, youth disorder has decreased in the area and the Senior's Film Club continue to earn the respect of their younger counterparts.  Volunteers are running their own crafts groups and the Govan Allsorts Choir are performing for residents in local care homes. Our new, interactive website showcases our participants' achievements and provides information on current events and opportunities.
We have a wealth of positive feedback, outcomes and case studies, but this statement from one participant is particularly poignant:
"I have been in children's homes and told all my life I couldn't do anything so I believed it, but this shows you can do anything if you put your mind to it.  I hope funders read this and don't just put it in a drawer."
The challenge faced by many arts and voluntary organisations today lies in how we effectively justify our services and evidence intangible concepts such as confidence, creativity and self-efficacy. How do we measure the wider social impact of making people feel better about themselves and their neighbourhood? Whilst the Social Return on Investment model can help quantify these soft outcomes for funders and decision makers, we must continue to demonstrate how holistic regeneration and equitable partnership can work at a practical level.
*Creative Scotland website http://www.creativescotland.org.uk/explore/showcase/creative-industries
More information on Plantation Productions and a selection of their past and current projects and films can be found at www.plantation.org.uk