St Paul's Youth Forum (SPYF) have had to respond rapidly to the COVID-19 pandemic, to prevent events from getting ahead of us. Having shifted all of our youthwork online, running online youth clubs on Tues, Wed, Thur, Fri and Sat evenings with games and discussions, as well as an online girls' group on Fridays. We have also been using our social media presence to keep the local young people occupied by setting fun daily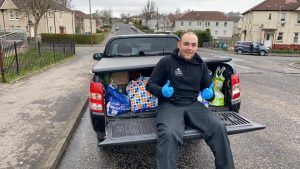 challenges and games for them to try at home. This has allowed us to continue to support our local young people emotionally during these tough times.
The 'Our Bike' project had secured a fleet of ten electric bikes which they have made available for free to key healthcare workers in the local area, allowing them to travel to and from their workplace safely, without having to risk contamination through public transport.
SPYF have begun an emergency food delivery service in the local area. Previously they ran twice weekly community meals and a food bank at our centre, to help address the large number of families living in food insecurity.
We have transformed this service, both to make it safe from potential contagion of COVID-19, and to upscale it to reflect the increased need in these challenging and unpredictable times. We are now delivering direct to peoples' doors for 75 households and over 150 individuals in the community.
We deliver an emergency food package every Monday, consisting of short-dated diverted supermarket food waste  received from Fareshare, and fresh fruit and vegetables purchased at wholesale prices from the local fruit market.
We are also cooking lentil soup and freshly baked rolls, by our own local baker, in our kitchen every weekday and delivering these out into the community. This ensures that local families have a regular supply of nutritious food and fresh fruit and veg, as well as cupboard essentials.
We are taking all recommended preventative measures for containing the spread of the virus, including leaving deliveries at doorsteps to avoid contact, and observing 2 meters social distancing amongst staff for their protection.
Through establishing this delivery service SYPF have also developed a point of communication with many of the most vulnerable and isolated in our community, both via telephone and online, which allows them to flag up  any potential problems they might be facing, and allows the team to make sure they are doing alright during this time.
We are very proud that we have been able to so quickly transition to providing emergency 5 day a week food provision, and that due to our position, and how embedded we are, within the community we are seen by many as the first port of call.
The team plan on working throughout the projected 12 weeks of lockdown to be able to ensure that the most financially insecure and vulnerable people in our communities remain supported during this most difficult and trying of times, and that no family or person in Blackhill and Provanmill is going to bed hungry.
(Update provided by St Paul's Youth Forum)