The group 'Working together for Avondale' was formed to coordinate community support across communities in Strathaven, Glassford, Chapelton, Sandford, Gilmourton and Drumclog.  
Groups involved include Strathaven Evangelical Church Foodbank, Outreach Community Church, Strathaven and Glassford Community Council, Strathaven Business Association, Glassford Community Group, Avondale Young Farmers, Mind Marvels, Heather Bond, Creative Strathaven CIC and Avondale LEAP.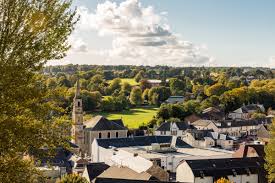 The groups have been working closely with Avondale LEAP, VASLan and Home Energy Scotland, with all initiatives funded by Strathaven and Glassford Community Council fund, using donations from Sandford and Upper Avondale CC, Banks Renewables and Falck Renewables. They are also awaiting the outcome of a bid for funding to the Renewable Energy Fund.
The groups have helped in a number of ways, all funded centrally from the CC Fund.
Strathaven's Foodbank, operated by Strathaven Evangelical Church has been delivering a minimum of 15 food parcels per week. It is trying to reach out to as many people in need as possible.
A free meal delivery service on Sundays, operated by Outreach Community Church and funded by the Community Council Fund. Over 5 weekends it has delivered almost 900 free meals. On Friday May 22nd the OCC also handed out over 30 Youth Parcels. Numbers for May 31st are at around 170.
Glassford Community Group's support for frontline workers has seen 15 nominees awarded £25 vouchers for the Steayban, part funded from the CC Fund. It has also collected and delivered around 35 prescriptions.
Avondale Young Farmers have collected and delivered around 180 prescriptions across the community.
The local production of 250 visors for distribution across our community to groups, individuals and businesses. Over 100 visors have already been handed round businesses in Strathaven and Glassford with more available as required. The visors were produced in Strathaven as part of a collaboration between Gary Tompsett and the University of Glasgow (which donated the brow frames).
Creative Strathaven is making up around 100 Art Kits for distribution across the community.  These will be free to families and if successful a second round of art kits may be distributed.
Mind Marvels is providing mindfulness support for families and Primary School children, whilst Heather Bond is offering similar support for adults and adolescents, through group online sessions or one-to-one.
A Book Swap was set up at a café in the town centre, involving two boxes, one for adults and one for children.  This has proven to be very popular and operates on the basis of take a book, bring a book.
Avondale LEAP is sending out puzzle packs to its client base.
Support is coordinated using a weekly group Zoom meeting and regular interim Zoom meetings to discuss specific initiatives as required.  It operates a WhatsApp group to keep everyone up to date between meetings.
(Update provided by Strathaven and Glassford Community Council)