When SURF first approached me about writing something on 'creative regeneration' for this blog, I immediately said yes. The SURF Conference with the same theme had just taken place and I was enthused and inspired after presentations from Dundee City Council on how culture is giving a new identity and global brand to my home city; from Malcolm Fraser Architects about reconfiguring our city centres for family living spaces; and from the Govan Fair about the cultural heritage of the travelling communities that have chosen to settle along the Clyde. But writing this now, a few weeks on from that eclectic mix of speakers and reflections, I realise that I still don't exactly know what 'Creative Regeneration' means. However, I do know what it 'feels' like.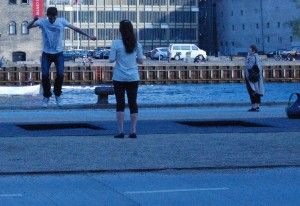 It feels like I did when jumping on this trampoline on an unassuming, urban (probably regenerated) street in Copenhagen last year. The trampolines are just small, sprung squares, flush with the pavement and perfectly safe. Even the most serious of grown-ups can't resist a playful bounce when walking past. And it's impossible not to smile while you are bouncing. From this mid-air vantage point, the urban view looks better, people seem less threatening and everything seems possible.
Bouncing, or playing, makes us feel better. It is through play, or making, that we practise the right to freedom of creative expression. And making is part of our shared humanity – it allows us to understand and reconcile points of difference, to consider new ideas and new ways of doing things. 'Making' matters most when it is shared.
Voluntary Arts Scotland is an arts charity and the national development agency for all voluntary, or amateur, arts groups. There are over ten thousand self-governing, voluntary arts groups across Scotland, providing opportunities for people to take part in many different types of creative activity, from painting to pottery and country dancing to choirs. The sector is largely self-sustaining through the commitment of volunteers and Voluntary Arts Scotland supports them with bespoke briefings on policy and self-promotion, networking opportunities, and advocacy on national and local policy issues. Voluntary arts groups demand little in terms of funding but deliver much for intergenerational contact, keeping town halls open, and providing training to discover or develop future arts talent.
Creative Regeneration cannot be truly sustainable without including the meaningful involvement of the people in local voluntary arts groups. The process of change matters as much as the end result and it requires the participation and empowerment of residents, the accountability of local government and non-discrimination by town planners.
The Albert Drive Project, in the Pollokshields area of Glasgow, invested time in getting to know and involve the existing voluntary arts groups on Albert Drive before initiating new arts interventions. Over cups of tea in halls and at kitchen tables during the course of a year, project workers gained an understanding of the shared knowledge of the local area, of the diverse cultural heritage, and the potential for cross-art form collaboration found within the voluntary arts groups.
"We wanted to strengthen, not replace, what was within the community and help make it more visible,"
Rosemary James, Glasgow Life.
One of the most gentle, yet long-lasting, initiatives was an invitation for residents to write each other letters requesting help for community work, or offering to share creative skills. Some of the letters were enlarged and posted onto lampposts to become art works themselves. But through 'making' the letters, strangers became neighbours and began to feel more connected to a community of place. Many voluntary arts groups – dancing, sewing, singing – already existed in the community, but early evaluation of the project suggests that by giving the groups enhanced recognition and access to shared performing and rehearsing venues, it became easier to recruit new volunteers and sustain audiences. This, in turn, will help support the professional arts sector by providing tutoring opportunities, new venues, and nurturing future talent; thereby demonstrating the intrinsic as well as instrumental value of participation. There is an Albert Drive on every street in Scotland. We just need to look harder to see them.
This year's Voluntary Arts Week in May (an annual celebration and showcase of voluntary arts groups), featured a 'CraftBomb' – an opportunity for people across the UK and Ireland to decorate their neighbourhoods in explosions of craft and colour. Can wrapping a tree in wool, or hanging felt birds from
railings be proven to lessen feelings of social isolation or enhance individual wellbeing? It's a hard thing to quantify, but anecdotal evidence from both crafters and residents suggests that not only does taking part in creative activity make you feel included, but knowing that your neighbours care enough about their area to decorate it with homemade crafts, can galvanise a local community into tidying up neglected spaces and self-organise into voluntary groups. Similarly, the presence of a community choir has been shown to increase pride in a residential location for both participants and observers, as well as contributing to enhanced individual mental and physical health.
In the rush to re-imagine, to re-configure, to regenerate our shared living and working spaces, we must not overlook the social and economic value of the existing voluntary sector infrastructure. The collectives of people who give their time for free in order to provide opportunities for others to take part in creative practice are the urban heroes, or creative citizens, of the modern age.
Voluntary Arts Scotland has recently moved office to a (regenerated) space called Creative Exchange in Leith. Formerly the old Leith Corn Exchange, the building is architecturally stunning with the original frescoes and gilded arches, plus state of the art modern technology thanks to investment from Edinburgh City Council, Edinburgh College and Creative Scotland. But it is not the fancy laser printers, swivel chairs or opening night speeches that will make this a place of creative exchange. Only the people working, sharing and making side by side, can make that happen. I'm lobbying to have a trampoline, or at least a table tennis table, installed in the reception. If we all paused to play or to bounce more often, we would enjoy a better view, and feel better about ourselves and our shared space.
So regeneration is not about buildings, or awards, or government initiatives. It's about people, the right to freedom of expression, and finding the shared spaces for making painting, knitting, singing and dancing. Because making matters.
Voluntary Arts Scotland is part of the UK and Ireland wide charity, Voluntary Arts. Voluntary Arts hosts the annual EPIC Awards recognising innovation and creativity from voluntary arts groups. This year's EPIC Awards Ceremony will take place in Glasgow in February 2014. The award categories will be open for nominations from September 2013: http://epicawards.co.uk/