If streaming services like Netflix can digitally beam the latest box office releases directly into homes, do places still need cinemas? Yes, says Robert Livingston of development agency Regional Screen Scotland, who shares the outcomes of a research initiative on the wider social values of the local cinema experience.
It can be tough being a screen development agency, as there's a too-ready assumption out there that Netflix and Amazon Prime are rapidly replacing the need for public screening facilities.
But, like the death of the book, the death of the cinema experience has been prematurely announced before now.
Tracking Shot
Back in the 1960s, when I was growing up in Dennistoun in Glasgow's East End, there were four cinemas within reasonable walking distance, though none was particularly salubrious. By the 1980s they'd all closed, with the arrival of colour TV probably delivering the coup de grace.
Indeed, the 80s saw the nadir of cinema in the UK, with annual admissions falling to a level that was the equivalent of everyone in the country going to 'the pictures' less than once a year. But salvation came in the form of the multiplex, and since the start of the new millennium UK admissions have never fallen below 150 million pa, and 2015 saw a 15% increase on the previous year.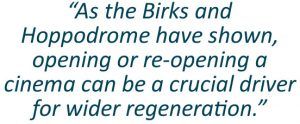 But this is not just a story of the triumph of international capitalism in the form of the multiplex chain. Scotland is fortunate in having an extensive network of independent cinemas, both commercial (from Thurso Cinema to the Pavilion in Galashiels) and community-owned (from the Oban Phoenix to the Birks in Aberfeldy).
And of course many arts centres now include film as a regular part of their programme, from Stornoway to Hawick. The recent advent of 'event cinema' (relays of live performances of theatre, music and dance) has given a real boost, and a new source of income and audiences, to many of those independent venues.
Behind the Scenes
Back in 2005 an academic study concluded that 'Cinema is Good For You' because the psychologically beneficial effect of being engrossed in a film was hugely increased if shared with an audience.
Now, my organisation, Regional Screen Scotland, has teamed up with the Glasgow-based Social Value Lab to research the wider social values of local cinema-going and shared screen experiences. The initial results, from over 3500 responses from 12 different venues, are startling:
83% of respondents said that they preferred watching films as part of an audience rather than at home.
97% were satisfied with the quality of experience at their local cinema
72% described their local cinema as 'extremely important' for the local area (and a further 24% thought it was 'important').
And for those who still think Netflix will kill cinema, 48% of respondents had streamed or downloaded a film in the last 12 months, so it looks as if cinema will survive the online revolution, just as it rode out the advent of the video-cassette and the DVD.
There's something about sharing a screen experience with an audience in a special venue that home viewing simply can't replace.
Not In The Script
The independent cinema sector, and touring services like Film Mobile Scotland, and our own Screen Machine which travels to the smallest and most remote communities that no other form of mainstream film provision can reach, are all doing a great deal to ensure quality cinema experiences across Scotland. But there are still many communities without such provision.
Many of the most glaring gaps are in large communities in the Central Belt: Paisley, Motherwell, Lanark, Alloa, for example. Now it can be argued that all those communities are served by multiplexes, but those big venues are usually on out of town sites that may be unattractive to many at night, and hard to reach by public transport. While there are honourable exceptions, moreover, too many non-urban multiplexes charge city-centre ticket prices, with little or no regard to the income levels in their surrounding communities.
That's why, for example, communities like Lochgelly and Cowdenbeath in Fife have hosted monthly screenings for families and for older audiences, even though both towns are only a few miles from a 10-screen multiplex. But there are other benefits as well: bringing new users to a local community centre and enabling cross-promotion of services; bringing life back to hard-hit town centres; keeping money in the local economy; even something as simple as offering parents a child-minding service on a Saturday morning (echoes of the ABC Minors, back in the 60s!).

High Production Values
Cinema is an essentially egalitarian artform, especially if the definition of 'cinema' is set wide enough to include local archive material and community-made films. The vehicle of 'event cinema' could be used, as it isn't yet, to provide wider access to the very best live Scottish cultural experiences that our taxes are paying for! Moreover, as the Birks in Aberfeldy and the Hippodrome in Bo'ness have shown, opening or re-opening a cinema can be a crucial driver for wider regeneration.
That was certainly recognized by the combination of national and local agencies which has backed the refurbishment of Scotland's oldest continually operating cinema, the Campbeltown Picture House, due to reopen next year as the jewel in the crown of the town's redevelopment.
But it's not all about buildings. Film clubs and societies can be set up anywhere there's a suitable space, sometimes with kit as basic as a DVD Player, a data projector, and a portable screen. A joint initiative by Cinema for All and Voluntary Arts Scotland, Grow Your Own Cinema, is helping a range of voluntary groups across Scotland to take their first steps in screening films, while another project, also funded by Creative Scotland, is developing film clubs in public libraries through the Scottish Library and Information Council.
So, the next time anyone tells you that cinema is a dying artform, just point them to the interactive map on our website, and tell them the shared screen experience still sits at the heart of a community's wellbeing!